Jimny in my conclusion, is a car for people who are adventurous enough to take it to places that it is meant for.
BHPian anand87 recently shared this with other enthusiasts.
I recently completed 900 km road trip with my Jimny Alpha AT. I thought I will pen down my thoughts (although many must have done already here) on how it performs on road and off road. My trip was through Western Ghats (Sahyadri) in Southern Kolhapur. Before I delve into the detailed review, let me brief about my background, my purpose of buying Jimny and my purchase experience.
Background:
I am an avid trekker and nature wanderer. Having lived in Pune and US, I have completed nearly 200 treks in Sahyadri and mountains in the US.
I was previously using Ecosport 1L ecoboost and drove it for 85,000 km in 6 years. My predominant usage was on rural (pothole ridden/narrow/steep) roads tucked away in mountains. Bad countryside roads took their toll on ecosport and it started producing niggles every often. That led me to searching a robust vehicle that would be totally abuse friendly to take on the potholes and narrow/steep countryside/mountainous roads. My search went on for nearly 2 years, but I could not find the right vehicle for my intended use. (We have 3 other cars in our family for professional/work/family/daily trips). Most midsize segment cars like Creta/Seltos/Taigun etc. were either unsafe (3 star rated) or unreliable (Taigun/Kushaq/Creta/Seltos DSG/DCT) in my perspective. In sub-4m segment I could not find anything better than ecosport in handling/ride quality and comfort and it made no sense to upgrade to another sub 4m car from ecosport. In addition, neither of them felt abuse friendly. When Jimny was announced in Jan 2023, I was excited but also felt anxious about its performance/practicality. I took a test drive and I got sold mainly because of Jimny's suspension. More about it in the review below.
Purchase experience:
Booked Jimny in Jan 2023 within 15 days of its announcement in Auto Expo. I received email saying it will be delivered by 30th July. During these seven months, I saw many videos of Jimny as well as other 4×4 cars. Also kept on pestering SA of NEXA Chowgule in Pune where I had booked the car about price and delivery. Fast forward to July 1st week and I received confirmation from Nexa Chowgule that my car is dispatched from factory, and I am welcome to perform PDI at their showroom (not stockyard). After an uneventful PDI, I confirmed the acceptance and paid the amount quoted. While paying, I took insurance on my own (TATA AIA all-inclusive with all add-ons) which turned out to be quite cheaper at Rs. 39,000 (I claimed 35% NCB from ecosport's policy) compared to what Maruti had quoted through their own brokerage company. I got the total cover with all addons because I thought I will take car to remote places and I may actually need some of these covers. With all the paperwork done, got my Jimny delivered on July 14th.
Accesories and modification:
Before getting the delivery, I got her fitted with various NEXA accessories worth up to 40k. I got 9% discount on the list price by Chowgule. Major ones were spare wheel cover, bodyside cladding, exterior styling kit, mud flaps, all weather boot and door mats. After the delivery, went straight from showroom to tyre shop to change tyres to Goodyear Wrangler AT Silenttrac 215/75/r15. I received a good discount here after exchange and paid Rs. 9500/- for changing all five tyres. I did not go for other mods as my intended purpose was mainly on broken tar roads plus occasional soft off-road.
Kolhapur trip:
Finally, after all the accessories fitted in, the mountain goat was ready to go into the mountains. The plan was made to visit many forts in Southern Kolhapur where roads are now built to take cars almost to the top. On some of these, the roads to the top from base village are a mix of gravel/mud/midsize stones. Needless to say, the roads were narrow, steep and winding.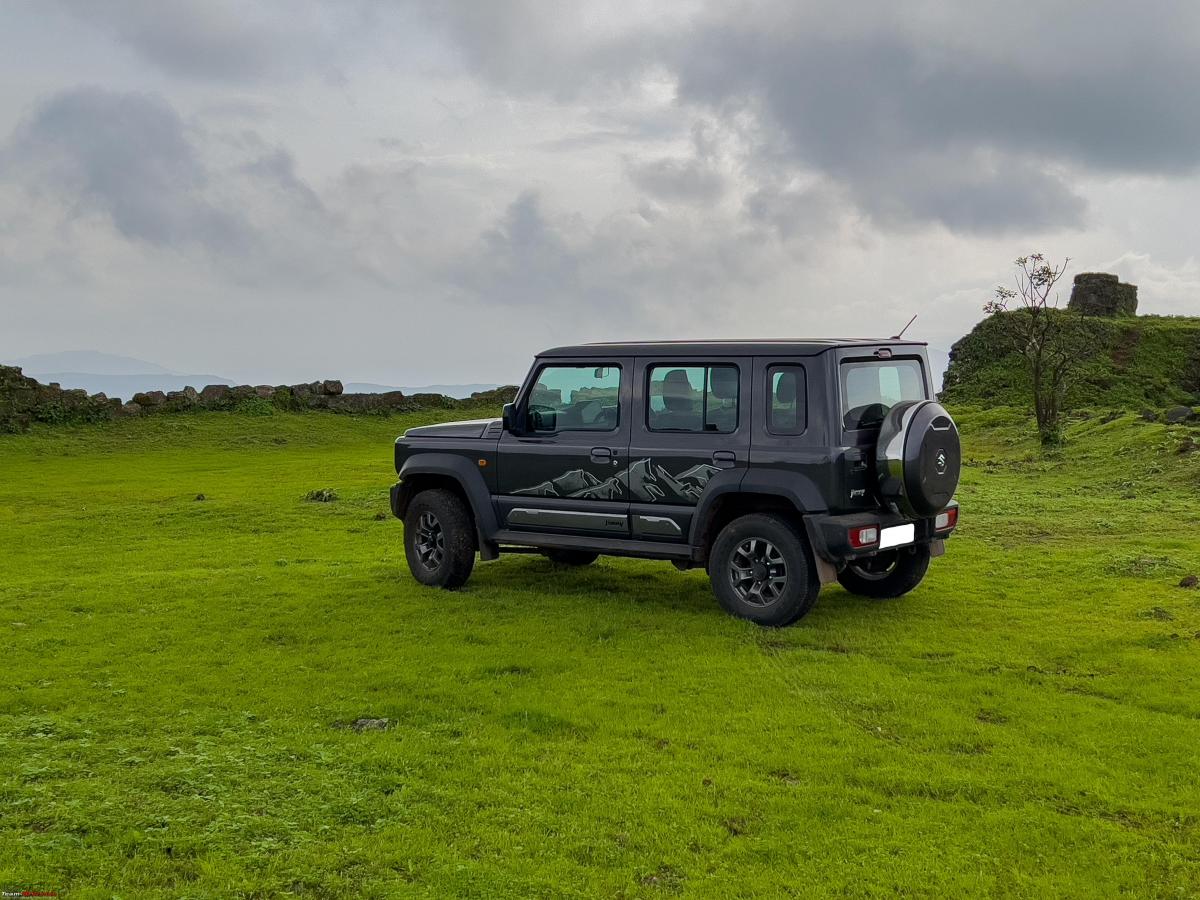 After the trip ended, the odometer showed 850 km.
Pros of Jimny:
Suspension: After driving for 850 km through narrow, winding and pothole ridden/gravel/off roads in mountains, I was overjoyed by the Jimny's suspension. Fellow friend travelling with me was jumping with joy on how he felt while Jimny obliterated potholes. They hardly filtered into the cabin and whatever came through was easily manageable. No matter how much I write about Jimny's suspension, one has to feel it to believe it. It is soooo good.
Ride quality: The ride quality is very good. It is not as planted as ecosport but for a ladder-on-frame RWD (2H mode) vehicle it is extremely good. Cornering is decent too and ride is not bouncy. The sitting position also offers a commanding view of the road.
Stability: I found Jimny's high speed stability to be good as well. Again, not as good as ecosport but very good for a 4×4 vehicle. I drove typically between 90-110 kmph on Mumbai-Bengaluru highway and I felt confident. On pothole ridden roads, Jimny breezed past other slow-moving traffic as if it was making a statement and making its case a bit stronger .
Infotainment and speakers: It may not be as fancy as Kia/Hyundai offer, but it offers wireless Apple CarPlay which worked flawlessly. Sound quality of speakers is also acceptable. My friend who constantly put songs of different genres did not complain. USB-C is a miss though. The workaround is to get a USB-C charger that fits in 12V socket.
NVH: There is a slight whine of K15B which is audible, but I am believing it may reduce as the engine settles down with more KMs. I could be wrong though. Other than that, NVH is very good. Engine noise is felt if you push it too hard and beyond 100 kmph. Till then all is good and acceptable.
Cons of Jimny:
Pickup: Jimny is slow to overtake and slow to pick up the speed. You will need to plan overtakes. Also on steep hill roads, Jimny will take its time to climb on. It is not worryingly slow, but turbo petrol users will be disappointed surely. I, for one, felt sluggishness of K15B very prominently after having used 1L ecoboost ecosport.
Features: Suzuki has done a poor job on giving some basic features. These would not have costed them much. Examples are – unlit gear knob indicators, unlit ORVM closing/adjusting buttons, front armrest, DRLs and LED foglamps. The unlit buttons are pain to use as you have to switch on mobile torch till you get accustomed. Fueling lid is on the opposite side and every time I stopped at the fueling station, they requested me to come around the other side.
Mileage: Those looking for Suzuki grade mileage will be disappointed. After the whole trip the mileage meter showed 11.1 kmpl. It could be a bit higher as I have not done the tank-to-tank calculation. I also forgot to reset the milage meter before leaving the home .
Space: In general, space will be an issue if you plan to carry a lot of stuff. Especially if you have toddler's stuff. The boot is enough to carry luggage of 2-3 people for a weekend or 3 days at max. Door pockets do not have bottle holders as everyone has pointed out. In addition, the backseat has poor thigh support for anyone taller than 5'8". On long distance trips as this one, lack of thigh support could be felt especially for elderly people.
This is my first review and I may have missed some important pointers that potential buyers may consider before buying. Please excuse me for the same or you may ask specifically in reply.
Conclusion:
Jimny in my conclusion, is a car for people who are adventurous enough to take it to places that it is meant for. It does that job brilliantly and significantly better than any sub 4m car and probably better than any 4.3m car in the market too. It has limited on offer for highway/city performance. I have mentioned limited offering in cities because of the poor turning radius and low mileage. If the usage is strictly highways, then you would be better off with any other FWD car as well. Jimny is meant for travel on countryside roads, mountainous steep/bad/pothole ridden roads where it outshines every single car. Jimny as you would expect may not be comfortable for elderly people as the backseat is not very comfortable compared to other cars.
In short, go for it if you do intend to take it to mountains and remote places and if it is a second car for your hobby. Look elsewhere if your intended purpose is highway traveling/work traveling/city traveling.
Read BHPian comments for more insights and information.
Source: Read Full Article