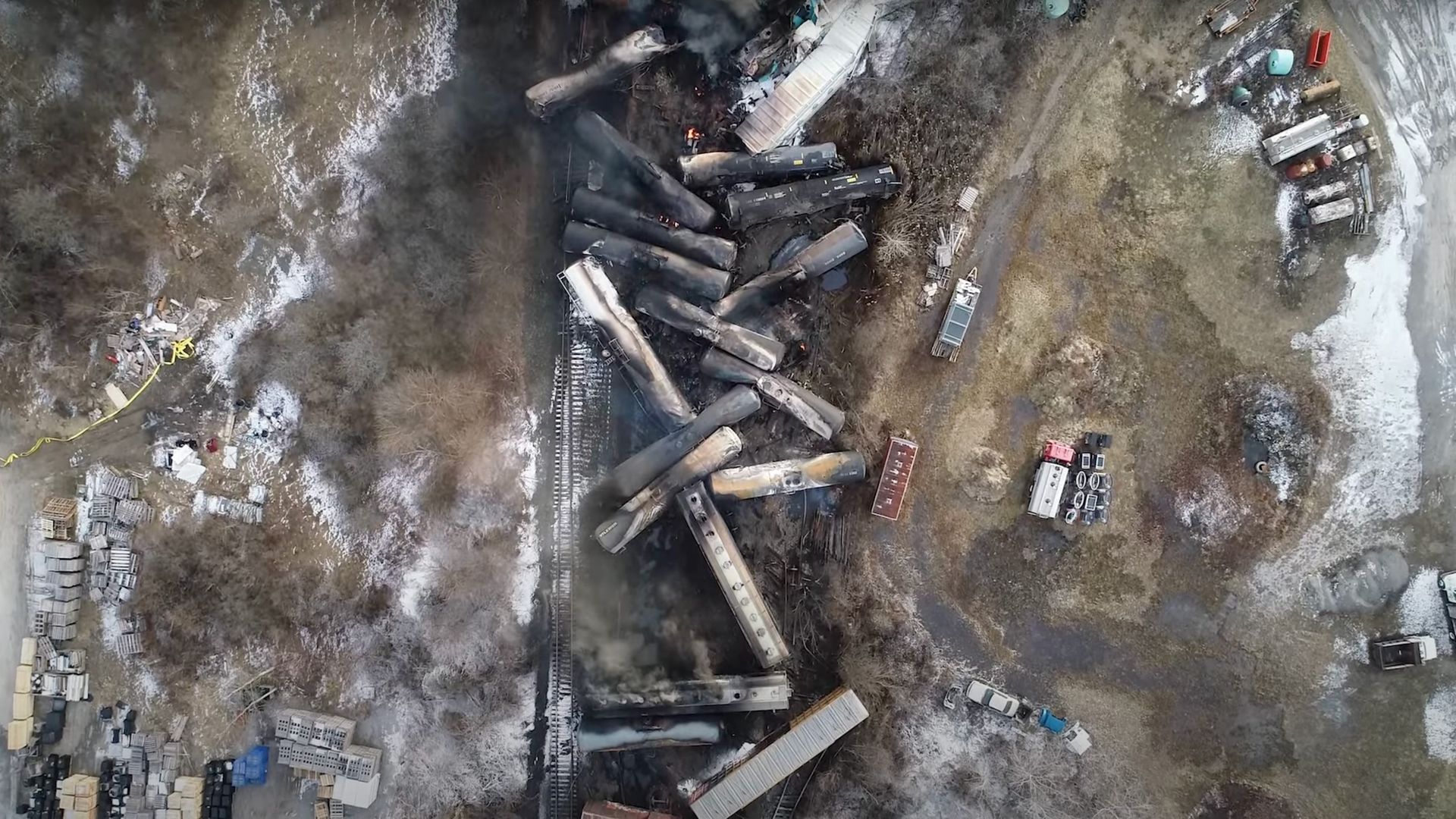 This video screenshot released by the National Transportation Safety Board shows the site of a derailed freight train in East Palestine, Ohio. Photo: NTSB/Handout via Xinhua via Getty Images
The National Transportation Safety Board has opened an investigation into Norfolk Southern Railway's safety practices and culture in response to five "significant" accidents dating back to December 2021, the agency announced Tuesday.
The big picture: The railroad operator has been facing criticism over the derailment of one of its trains carrying hazardous materials in East Palestine, Ohio. The special investigation comes after a conductor was killed in the state during a collision Tuesday.
Driving the news: The NTSB said it is concerned that several "organizational factors" may have been involved in the accidents, including "safety culture."
Details: The five incidents in question include the Norfolk Southern employee who was fatally struck Tuesday in Cleveland, Ohio "by a dump truck as a Norfolk Southern train was moving through a crossing at the facility," the company said in a news release.
The Feb. 3 freight train derailment that resulted in a significant fire and hazardous materials release in East Palestine is being investigated.
A March 4 incident in which another Norfolk Southern train derailed near Springfield, Ohio is also in question.
A Dec. 13, 2022 collision that left a Norfolk Southern trainee conductor dead and another conductor injured in Bessemer, Alabama will be investigated.
A Dec. 8, 2021 incident in which an employee for the National Salvage and Service Corporation died while working with Norfolk Southern in Reed, Pennsylvania to replace a track and the operator of a spike machine reversed direction and struck the employee.
Of note: The NTSB said it also plans to review an Oct. ​8, 2022 derailment in Sandusky, Ohio.
What they're saying: "Given the number and significance of recent Norfolk Southern accidents, the NTSB also urges the company to take immediate action today to review and assess its safety practices, with the input of employees and others, and implement necessary changes to improve safety," the agency said.
Norfolk Southern CEO Alan Shaw said in a statement Tuesday that the company is "going to rebuild our safety culture from the ground up."
"We are going to invest more in safety. This is not who we are, it is not acceptable, and it will not continue," Shaw said.
Go deeper: Norfolk Southern reported rise in railway accident rates ahead of Ohio train derailment
Source: Read Full Article