France's president Emmanuel Macron has tested positive for coronavirus, his office has said.
The Elysee Palace in Paris said on Thursday the 42-year-old was tested after showing early symptoms.
He will now isolate for seven days but will continue to work and carry out his activities remotely.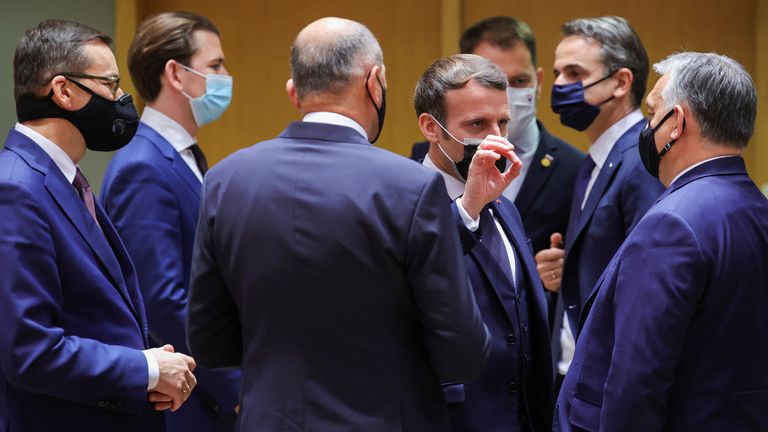 The brief statement did not give details of the symptoms the French president was experiencing.
"He will continue to work and take care of his activities at a distance," it added.
His wife Brigitte, 67, is also self-isolating, her office said, although she is not showing any COVID-19 symptoms.
Mr Macron was due to visit Lebanon next week on 22 December. The trip has now been cancelled, a spokeswoman said.
It was not immediately clear what contact tracing efforts were in progress, but palace officials added he was trying to assess where he may have contracted the virus.
Mr Macron met the prime minister of Portugal, Antonio Costa, on Wednesday. There was no immediate comment from Portuguese officials.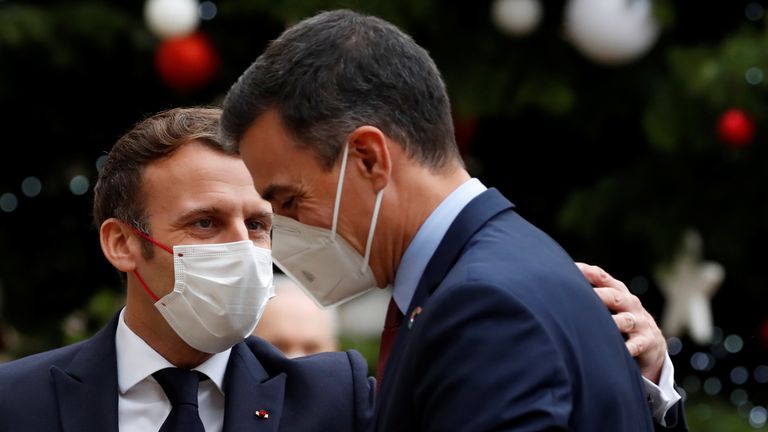 However, officials in Spain said Spanish Prime Minister Pedro Sanchez – who met Mr Macron on Monday – was suspending all public activities and would be in quarantine until Christmas Eve.
He was among guests invited to the Elysee Palace as part of events marking the 60th anniversary of the signing of the OECD convention at the start of the week.
An EU spokesman said European Council President Charles Michel was also in self-isolation following Mr Macron's positive coronavirus test. He attended the same event as Mr Sanchez.
The French president was among EU leaders and delegates at a European Council heads of state meeting at the end of last week in Brussels, Belgium, between 10 and 11 December.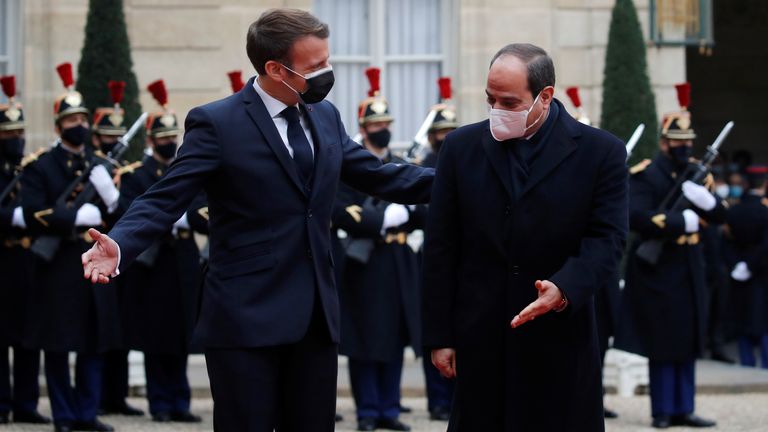 The diagnosis also comes nine days after a state visit to Paris by Egypt's president Abdel Fattah al-Sisi.
During the two-day trip, Mr Macron presented his Egyptian counterpart with the Legion of Honour – the highest French award.
British Prime Minister Boris Johnson and European Commission President Ursula von der Leyen were among the first to wish Mr Macron a return to good health.
Mr Johnson tweeted: "Sorry to hear my friend @EmmanuelMacron has tested positive for coronavirus. We are all wishing you a speedy recovery."
Ms von der Leyen also wished the French president a "quick recovery".
"I am wholehartedly with you," she tweeted, adding: "This pandemic, we are going to defeat it together. We will continue to work hand in hand to immunise and protect our citizens."
France's Prime Minister Jean Castex will also self isolate after coming into contact with Mr Macron over the last few days, said Gerard Larcher, head of the Senate, the upper house of the French parliament.
Source: Read Full Article