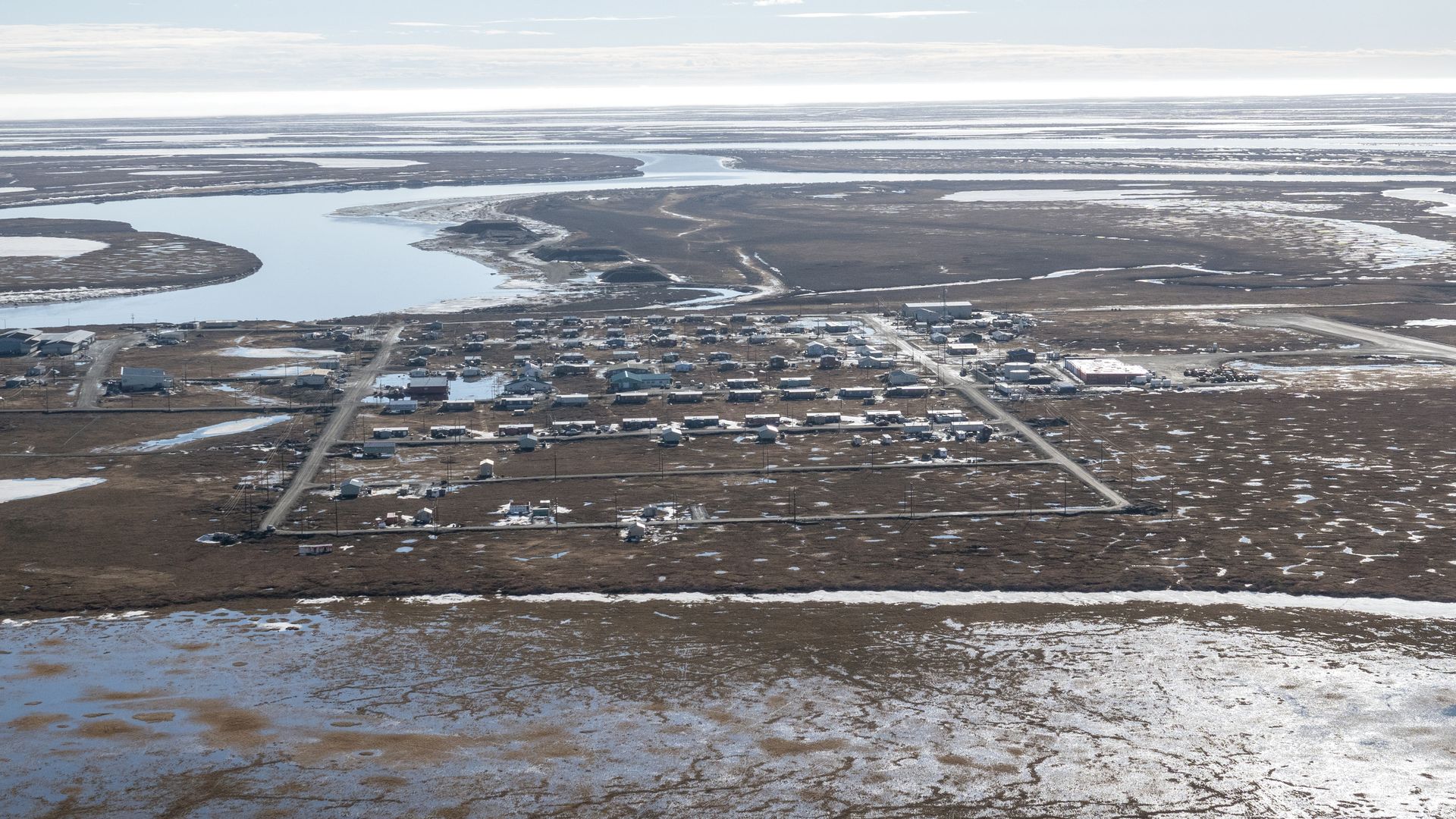 An aerial view of Nuiqsut, Alaska, near the oil drilling project. Photo: Bonnie Jo Mount/The Washington Post via Getty Images
The Biden administration on Wednesday defended in the U.S. District Court for Alaska a massive ConocoPhillips oil and gas project approved during the Trump-era, per the New York Times.
Why it matters: President Biden has pledged to move away from fossil fuels. But the project has the backing of officials including Sen. Lisa Murkowski (R-Alaska) — who's viewed as a potential ally for Biden in his attempts to push through policies in an evenly divided Senate, NYT notes.
Driving the news: Some tribal leaders and unions also back the project, but environmental groups say the Trump administration didn't consider the effects the Willow drilling project in part of the National Petroleum Reserve would have on wildlife and climate-change, according to Reuters.
A judge temporarily blocked the project in May after the environmental groups filed a lawsuit.
What they're saying: The Biden administration didn't clarify how its stance fit with climate policies, but it said in the filing sufficient considerations had been made in regards to greenhouse gas emissions and the effects the project would have on "fish, caribou and polar bear habitat," the Times reports.
The filing noted that Conoco has "valid lease rights" and can "develop its leases 'subject to reasonable regulation,'" per the NYT.
An Interior Department spokesperson said in an emailed statement to Axios that the filing by the Justice Department "continues to defend a 2020 Record of Decision for the Willow Project in the National Petroleum Reserve – Alaska (NPR-A)."
"The filing maintains that the decision complied with NEPA [National Environmental Policy Act] standards in place at the time, and that the plaintiffs did not challenge the Record of Decision within the time limitations associated with environmental review for projects in the NPR-A."
Editor's note: This article has been updated with comment from the Interior Department.
Source: Read Full Article