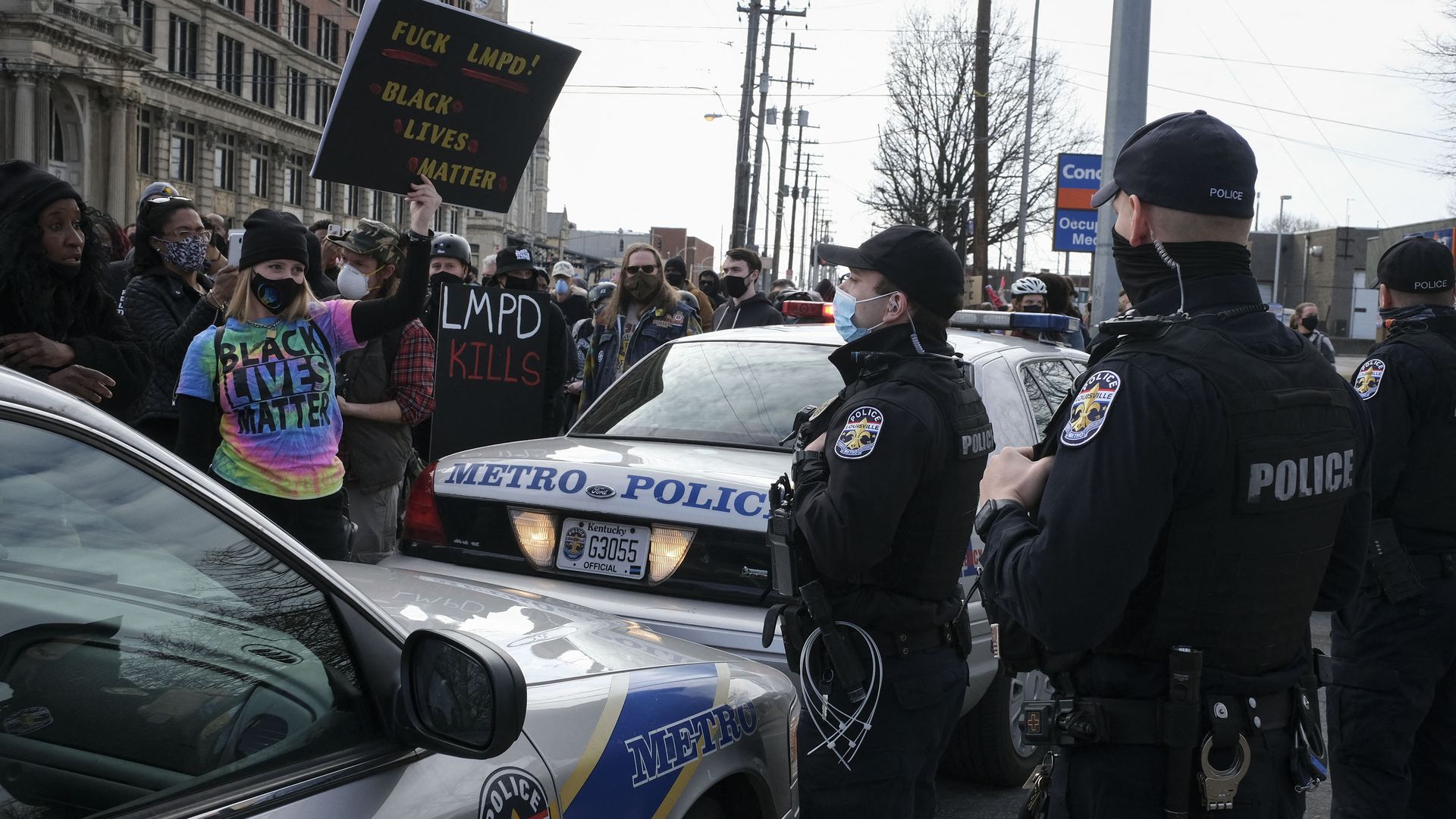 Louisville Metro Police Department officers and protesters in Louisville in March 2021. Photo: Jeff Dean/AFP via Getty Images
The Louisville Metro Police Department (LMPD) has engaged in a pattern of unlawful and discriminatory conduct that violated the Constitution and federal law, the Department of Justice said in a report released Wednesday.
Why it matters: The findings, announced almost three years after police shot and killed Breonna Taylor during a 2o2o raid on her home, amount to a scathing critique of Louisville's police department.
The finding caps a nearly two-year investigation into LMPD after the police killing of Taylor, a 26-year-old Black woman and medical worker.
The DOJ said the review found that LMPD officers discriminated against Black people in their enforcement activities, violated the rights of people engaged in protected free speech critical of policing and discriminated against people with behavioral health disabilities.
It also accused officers of using excessive force, conducting searches based on invalid warrants and unlawfully executing search warrants without knocking and announcing.
The DOJ also said it found deficiencies in LMPD's response to and investigation of domestic violence and sexual assault, including allegations against its own officers.
What they're saying: "This unacceptable and unconstitutional conduct erodes the community trust necessary for effective policing," Attorney General Merrick Garland said in a statement.
The Justice Department said Louisville's police department and the city government have agreed to resolve violations identified in the review through a court-enforceable consent decree.
The DOJ issued 36 remedial steps for the LMPD and the city's government to take the review's findings, Garland said during a press conference.
The big picture: The Justice Department last year charged four former LMPD officers involved with drafting the "no-knock" search warrant that led to Taylor's death with several different crimes.
One of those former officers has pleaded guilty to charges, admitting she helped falsify the search warrant and file a false report after Taylor's death as part of a cover-up attempt.
The only officer to face charges in connection to the 2020 raid itself was acquitted by a jury in March 2022.
Taylor was shot in crossfire between police and her boyfriend, who fired a shot at the plain-clothes officers, thinking it was someone attempting to break into their home.
Go deeper: DOJ to investigate Memphis Police Department after Tyre Nichols' death
Editor's note: This story has been updated with additional details.
Source: Read Full Article