Car ownership rises for the first time since 2019, as Brits get back on the road post-pandemic and the number of plug-in cars passes 1 million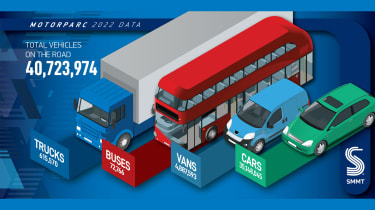 The number of cars on Britain's roads rose by 124,393 in 2022, taking the total number to 35,148,045 according to latest figures from the Society of Motor Manufacturers and Traders.
It's the first increase since the start of the pandemic in 2019, and the SMMT's Motorparc 2022 survey also reveals there are now almost 1.1 million cars on the road with a plug – that's a rise of more than 50 per cent in the course of the last year. 
Best-selling cars 2023: the UK's top 10 most popular models
This means that plug-in hybrid and battery electric vehicles account for one in every 32 cars, but breaking down the figures shows full EVs still take only 1.9 per cent of the national car parc total, and plug-in hybrids 1.2 per cent. Meanwhile 58.6 per cent of our cars are petrol fuelled, while 35.8 per cent drink diesel.
The effect of the pandemic can be seen in the record number of vans on the road as, spurred on by the growth in home delivery services, they now account for close to one in eight vehicles. Overall, truck and van numbers have increased by 1.9 and 1.7 per cent respectively, meaning the HGV parc is at record levels in the UK too.
However, as the roads become ever-more congested, a continuing decline in public transport is laid bare by the figures. At a time when the government claims it needs to get people out of cars and onto trains and buses to help reduce CO2 emissions, the UK bus and coach fleet fell by a further 2.3 per cent last year. The total figure of 72,766 buses and coaches is the worst since records began, and the SMMT says 16,608 vehicles have gone out of service in the last 10 years.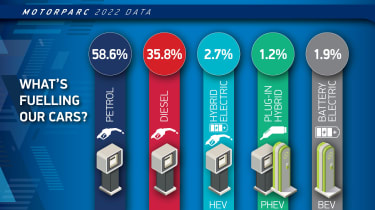 Other interesting statistics highlighted by the report are that 67 per cent of cars driven in the UK were made in the UK, and just 15 per cent were made in Britain. Female car ownership has risen slightly while male ownership has fallen, and two thirds of the cars on UK roads are equipped with manual transmission.
The average age of cars on the road is nine years old, which is the same for vans, but 29.8 per cent of cars are more than 12 years old. The average age of a bus is 13 years.
These registrations are too rude for the road! Read more about 2023's banned number plates…
Source: Read Full Article