Hyundai's electrification strategy is bounding forward, with the Ioniq 6 due to become a new rival for the Tesla Model 3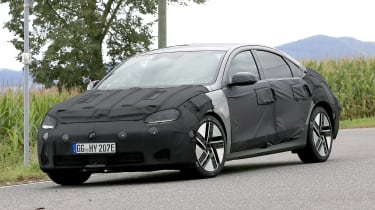 Our spy photographers have snapped the new Hyundai Ioniq 6 electric saloon tackling its test programme, ahead of its expected launch in 2022. When it arrives, the Ioniq 6 will square up against the Tesla Model 3, while also looking to pry buyers away from petrol-powered family car stalwarts like the Skoda Octavia.
Like all of Hyundai's latest electric vehicles, the Ioniq 6 will be based on the modular E-GMP architecture. It runs an 800-volt electrical system and can charge at up to 350kW, meaning up to 62 miles of range can be added to the battery in just five minutes.
Hyundai Group to launch new pure-electric city car in 2023
We expect the Ioniq 6 will get the same choice of batteries and electric motors as the Ioniq 5. So, the cheapest version should come with a 58kWh battery pack and a single 168bhp motor mounted on the rear axle.
The flagship model will get a 73kWh battery pack and an extra electric motor for the front axle, bringing four-wheel drive and 301bhp. Somewhere in the middle of the line-up, there'll also be a 215bhp single-motor option which uses the same 73kWh battery.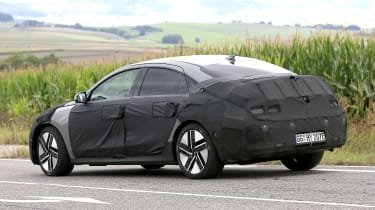 Despite the cars sharing identical underpinnings, range could improve over the Ioniq 5. The 215bhp 73kWh single-motor version of the hatchback can manage 300 miles between charging stops, but the 6 could push past that, simply because of its more aerodynamic shape.
Judging by these images, the Ioniq 6 will be longer than the Ioniq 5, with the bigger body bringing more space in the boot and the rear footwell. Its styling will also be a departure from the 5's boxy design language, as the saloon takes the Prophecy concept as its starting point. 
Underneath the cladding, we expect to find the same curvy nose cone and trapezoidal headlamps as the concept car. Hyundai has also kept the concept's half-moon roofline, although the rear end has been raised, probably in the interest of retaining a practical boot.
It won't be a completely alien design for the brand, though, as Hyundai has retained some elements of the Ioniq 5's styling. Peer through the gaps in the rear of the wrap, and you can just make out a pair of retro-styled dot-matrix tail lights.
There'll be more carry-overs for the interior, with buyers getting the same 12.3-inch digital instrument cluster, connected to an identically sized infotainment system. We expect the unit will also be set within an equally minimalist dashboard.
Click here to learn more about the Hyundai Prophecy concept…
Source: Read Full Article