Subaru plans on bringing the Crosstrek to the UK with a redesign of the exterior and interior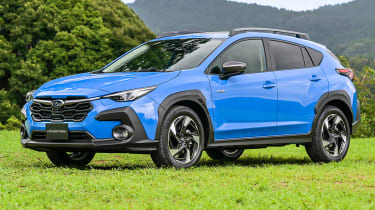 The second-generation Subaru XV was launched in the UK back in 2018 so a facelifted version is well overdue. In 2021 Subaru gave its smallest model a refresh, but this upcoming facelifted version will offer a more comprehensive update under the new Subaru Crosstrek name.
The Crosstrek has only just been announced for the Japanese market, so don't expect the new car to arrive in the UK until the end of 2023 at the earliest. Subaru says the Crosstrek will be a third generation model of the XV line and the Crosstrek name will now replace XV in all markets – but as we can see from these images, it's more of a heavy facelift of the XV.
Top 10 best small SUVs and crossover cars to buy 2022
Starting with the exterior, the XV-based Crosstrek will gain a new front end. There are slimmer headlights, a bigger grille, a redesigned bumper and new foglights. Plastic cladding around the wheelarches remain, but they've grown on the Crosstrek. The rear lights have also been tweaked to look more like the larger Outback model and we can also see a chunkier rear bumper.
The extensive redesign carries over to the inside. The dash now features a larger 11.6-inch portrait-style touchscreen with the physical climate controls vanishing to become a part of the screen's functions. The driver's instrument cluster hasn't become a screen, with analogue dials remaining. The design of the cabin has changed as well, with a new look to the vents, door handles and centre console.
Subaru says the new Crosstrek will use a 2.0-litre e-Boxer hybrid engine mated to a CVT transmission. It's not clear if it'll produce more power than the outgoing 154bhp flat-four e-Boxer model. As ever, all-wheel drive will come as standard.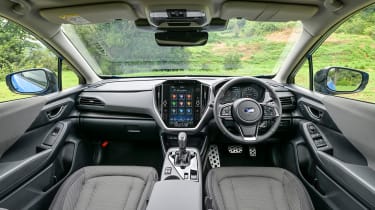 The Crosstrek will also add new features such as a 360-degree bird's eye camera of the car, LED cornering lights and a wide-angle camera. Safety technology is also improved with pre-collision braking and a reworking of the Subaru Global Platform for better crash results.
When the Crosstrek debuts here in the UK, we expect it will cost slightly more than the current £33,195 XV e-Boxer model.
Now read our list of the best SUVs to buy…
Source: Read Full Article