Relax in total comfort with our list of the top 10 best luxury cars to buy – providing your wallet can afford those premium prices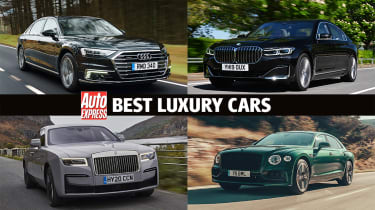 The sign of a great luxury car is that you arrive at your destination, no matter how long or short the distance, feeling more relaxed than when you set off. Whether that is through massaging seats, the quietness of the cabin or the selection of on-board gadgets to play with, a luxury car is designed to be the very best in motoring that money can buy.
Many manufacturers strive to bring a luxury and premium feeling into their cars but many fall flat compared to the ten we have chosen here. The best in the business combine the latest space age technology, unrivalled interior quality and a smooth and silky driving experience all rounded together. Unfortunately, all this luxury doesn't come cheap so only those with wallets deep enough will be able to experience the otherworldly feeling of travelling around in a five-star hotel on wheels.
Best luxury SUVs 2021
The big factor with luxury cars is exactly how much luxury you get for your money. The best cars come with plush seats covered in soft leather, while even the seats in the back will come with electric adjustment and massage functions. There will be legroom to spare and the kind of in-car entertainment that used to be the preserve of first-class transatlantic flights, with high-end audio and visual systems that can be tailored to any requirement or need.
But that's not where a luxury car's talents need to end. There are plenty of cars on sale that are just as good from behind the wheel. Whether it's refined comfort, sharp driving dynamics or unstoppable off-road ability, the ultimate luxury cars aren't just offered in a saloon body style any more. Yes, there are some super-luxurious off-roaders on sale, while the sportiest models astound with their ability to transform from docile grand tourer to sharp track tool at the press of a button.
Luxury cars are not just all for show, they play a key part in predicting which technology will feature on your family hatchback in 10 years time. Players like the Mercedes S-Class have introduced double glazed windows, noise-cancelling tech, autonomous driving systems and remote parking among others into standard everyday cars. But which models are best? We've rounded up our 10 favourites here…
1. Bentley Flying Spur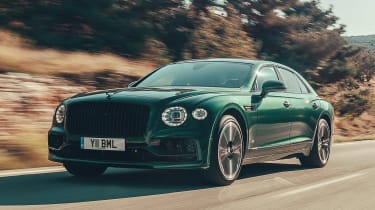 Luxury and performance are qualities synonymous with Bentley motor cars, and the Flying Spur is the brand's 'small' four-door limousine. It uses an extended version of the Continental GT coupe's platform, so it comes with four-wheel drive and Bentley's 6.0-litre W12 engine. Predictably then, performance is stunning – this two-tonne-plus saloon delivers a sub-four second 0-62mph time and a top speed of 207mph.
The Flying Spur offers majestic levels of refinement and was rightly crowned Luxury Car of the Year at our 2021 New Car Awards. It's so good and you hear so little that the distant rumble of the twin-turbo 6.0-litre W12 engine is the underlying soundtrack.
As with all Bentleys, the Flying Spur is beautifully finished inside with the finest wood and leather trim, so occupants can be carried in supreme comfort at high speeds. And, if the monstrous W12 just feels a bit too much, you can always 'downsize' to the V8 unit with 542bhp, or even the 2.9 litre V6 Hybrid model that offers around 24 miles of all-electric range. 
2. Mercedes S-Class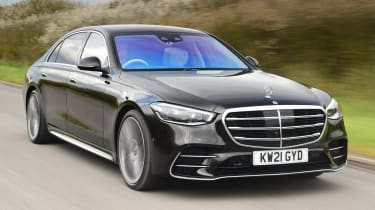 There are fewer relaxing experiences than driving the Mercedes S-Class, except for possibly being a passenger in one. Vibrations through the pedals and steering wheel are non-existent, and even at motorway speeds you won't hear any wind or tyre roar.
You float along, unaware of the imperfections in the road surface, as the Mercedes simply soaks up the lumps and bumps as if they were never there to begin with. Add to this engines so quiet you will regularly be convinced the start/stop system has cut in and a silky smooth nine-speed automatic gearbox, and you have the ultimate luxury combination.
The S 500 4MATIC version uses a 3.0-litre, six-cylinder petrol engine, producing 429bhp – which is good enough to propel it from 0-62mph in 4.9s. Even the 282bhp S 350 diesel is capable of a decent 6.4s sprint time, and a 155mph maximum speed.
There is no surprise that the long-wheelbase model is all about the rear seat, which comes with enough legroom to kick back and watch other road users drive past in their lesser vehicles. Should even that be too stressful, the seats come with heating and massaging features to take comfort up another notch.
We're big fans of the S-Class' consistent focus on comfort and refinement, which is why we bestowed it with the prestigious Luxury Car of the Year title at our 2019 New Car Awards.
3. Rolls-Royce Ghost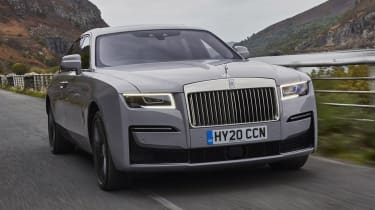 When it comes to luxury and refinement, the new Rolls Royce Ghost delivers in spades. The relentless attention to detail has delivered a car which, according to Rolls Royce, is the most technologically advanced it has ever produced. There are only two parts carried over from the previous model – the Spirit of Ecstasy that sits atop the bonnet, and the umbrellas hidden within the doors.
The Ghost is based on Rolls-Royce's latest aluminium chassis that it calls its 'architecture of luxury'. It's new to the Ghost, but can also be found beneath the Cullinan SUV and flagship Phantom.
Although perhaps a little less conspicuous than its Phantom sibling, the Ghost is still five-metres long and 2.5-tonnes in weight, so it could hardly be called understated. Thankfully, its 6.75-litre V12 petrol engine produces 563bhp, which allows a 0-62mph time of 4.8s and a 155mph top speed.
4. BMW 7 Series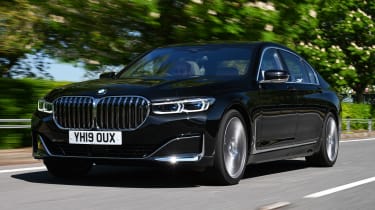 The BMW 7 Series has always struggled to match the many benchmarks set by the Mercedes S-Class, but it isn't for want of trying. With a stellar line-up of petrol and diesel engines, handling that owes more to the brilliant 5 Series than a proper limousine and a host of hi-tech gadgetry, the understated 7 Series is still a great choice.
It was given a whole host of new cutting-edge technology when the latest 7 Series arrived in 2016. There's standard and long-wheelbase versions, which provides improved rear legroom and is therefore an excellent choice for chauffeurs.
The new car gets a more tapered design and is significantly lighter than the car it replaces thanks to the use of carbon fibre in its construction. This helps to save fuel, although it also means that the rapid 740i and 750i models handle surprisingly well for such a large car.
Top of the range is the M760Li xDrive, which became BMW's fastest accelerating car ever when it was launched – taking just 3.7 seconds to get to 62mph from a standstill. The M760Li xDrive costs well into six figures, has a 6.6-litre twin-turbo V12 and produces 602bhp and 800Nm of torque – not a car you want to be trying to be keeping up with…
5. Bentley Continental GT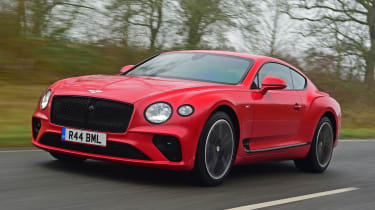 The Bentley Continental GT may be built on Porsche Panamera underpinnings but that is in no way a bad thing as both cars feature in this top ten list. This is a luxury 'grand touring' coupe that does not break sweat being driven across continents. Its 626bhp and 900Nm W12 engine has become synonymous with the car and certainly packs a punch.
The interior is a treat for anyone lucky enough to sit inside, with inspiration taken from the wings of the Bentley badge. The dashboard, for example, 'wings' majestically out from the central console, before continuing into the door trims, circling the occupants with a ring of wood and leather.
Along with the lavish design the cabin features an array of new technology including bang-up-to-date infotainment and safety systems that are a match for anything else on sale. There's also a bundle of new chassis tech that helps give the Continental GT its great driver feeling on the road. 
6. Range Rover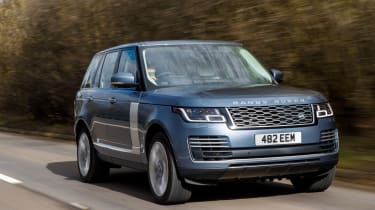 Despite its SUV body, the Range Rover is just as comfortable as a long-distance cruiser as it is ploughing through a muddy field. Despite its imposing presence, the Range Rover is surprisingly nimble and hugely refined.
The Range Rover comes in four trim levels – the 'entry' level Vogue, the mid-range Vogue SE, the Autobiography and bespoke SV Autobiography tops the range. Engines are large in capacity, with a 3.0-litre SDV6 diesel, a 3.0-litre petrol and a 5.0 supercharged petrol V8 available. There's also a 2.0-litre petrol plug-in hybrid with 398bhp.
With the extra height the Range Rover has over its rivals, it feels truly massive in the back, especially in long wheelbase guise, and it gives a fantastic view. One downside of its sheer size though, is that it's quite a climb up into the car.
Land Rover gives the Range Rover air-suspension that can be used to lower the body and make getting in-and-out easier, but even still, it's not quite as easy to do so as in a BMW 7 Series or Audi A8.
7. Rolls-Royce Phantom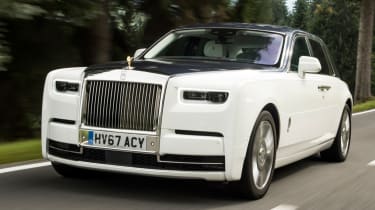 There's no doubt that the Phantom is an incredible car. It's powered by a 6.75-litre V12 petrol engine, which produces 563bhp and 900Nm of torque. This allows you to plant your right foot and accelerate from a standstill to 62mph in 5.3 seconds and on to a limited top speed of 155mph.
The price is suitably large to go with the Rolls' grand dimensions and 21- or 22-inch wheels, as the least you can expect to pay is north of £300,000. So much as look at the options list and you will find that figure heading beyond the £400,000 mark.
On the road it is obviously, unbelievably quiet and comfortable, but should you find yourself in the driver's seat, you have a mixture of features to make sure you enjoy your time there. Firstly, there is four-wheel steering to aid in low-speed manoeuvres and high-speed stability, then there is the air suspension and active roll management to prevent unwanted lurching of the body through the corners.
8. Porsche Panamera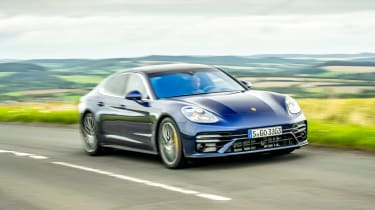 Like the Porsche 911, the Panamera is a masterclass in evolution ahead of revolution when it comes to its development. While it hasn't been around anywhere near as long, it's clear that the Mk2, launched in 2016, is a logical progression from its predecessor.
Thankfully, that means it looks more appealing than the original. The lines have been smoothed out, yet the 911 styling cues remain, while the driving experience has been enhanced to boost its range of ability.
It's just as driver-focused as before, so it's a pleasure to drive quickly, and it has performance by the bucketload, but the air-suspension can be switched to comfort mode at the press of a button to keep back-seat occupants comfortable and unruffled.
As before, there are standard and S models, rear and four-wheel drive is available, plus E-Hybrid, Diesel, Turbo and Turbo S models to choose from.
9. Audi A8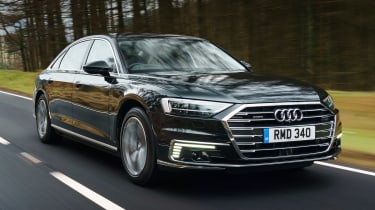 The Audi A8 is handsome and well proportioned, but takes cues from smaller Audis, so it doesn't turn heads like the Mercedes S-Class and Range Rover.
Inside, you're welcomed by top-quality materials and a logical dashboard. As you'd expect, there's plenty of optional equipment on offer, plus a bewildering array of leathers, veneers and inlays to give your A8 an even more opulent feel. Still, with 12-way electrically-adjustable heated leather seats, plus sat-nav and four-zone climate control, the cabin feels suitably exclusive even in standard form.
While the new model is still short of the Mercedes S-Class, Audi's own take on understated luxury will be appealing to many buyers. Not only that, but the new model is more powerful and more economical, a combination any motorist will appreciate.
10. Bentley Bentayga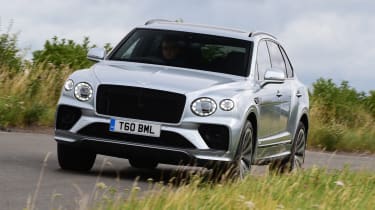 The Bentayga may be criticised for driving a bit like a top-spec Audi Q7, but it is still an incredibly well polished car that puts in a strong claim to be the most luxurious SUV on the market. The British marque went big with its first attempt at an SUV with the First Edition models released at launch costing £230,675.
While the Bentayga is hand-built, the body-in-white is actually manufactured in Slovakia. After this, it is sent as an aluminium shell to the exotic land of Crewe where it undergoes its final assembly.
To ensure that the Bentayga is up to standard when behind the wheel, it is based on the same MLB architecture in which the Q7 and Porsche Cayenne are built upon. Should you wish to take advantage of Bentley's most potent powertrain for the SUV, you can opt for a 6.0-litre W12 that pumps out 626bhp and 900Nm of torque.
Now read about the Best performance cars here…
Source: Read Full Article