We reveal the best way to block out the sun while keeping your car and passengers cool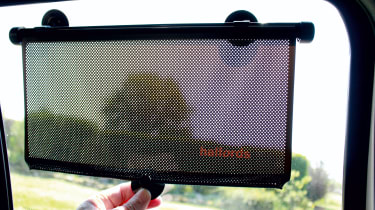 It's great to see sunny days, but they can make car travel seriously uncomfortable. Even with the air-con on, a car's glass can magnify the sun's rays and make the interior unpleasantly hot. Plus ultraviolet glare from the sun (UVA/B) can cause sunburn in the short term and bigger problems in the medium to long term. 
Fitting rear sun shades makes a lot of sense, especially if children are on board. There are many sizes on offer, so check to make sure they are suitable for your vehicle before buying. Fitting a large blind to a small window will be awkward or impossible, while too small a design will allow more light in, reducing the benefit. Other options allow the window to be lowered while fitted, and roller blinds can be raised and lowered to suit. 
Best cool boxes and bags 2023
How we tested them
The sun and its UV are highest from 10am-4pm, which is when we tested the blinds. Using a smartphone app and sensor we measured the UV index before and after fitting the blinds, and with the window up and down.
During the test, the UV rating outside the vehicle was around 3.9. This is defined by the World Health Organisation as moderate risk, where some shade and sunscreen is recommended. 
Reviews:
Halfords Rear Window Sunshades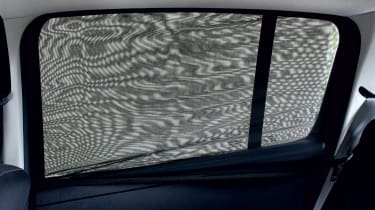 Price: Around £10.99-£12.99  
Rating: 5 stars
Website: halfords.com
Available in large, small and curved versions, this pairing is unchanged since our last test. The thick black mesh is elasticated and designed to fit completely over the rear-door windows, providing a double layer of protection. As a result, no UV got through, plus the window can be wound down without any fear of letting insects or objects into the car. 
The downside is that the view out is very limited, and if the sun's not shining, it can be quite gloomy. Although these are the most expensive shades on test, the quality and performance keep them at the top. 
Buy now from Halfords
Halfords Pop-up Sunshades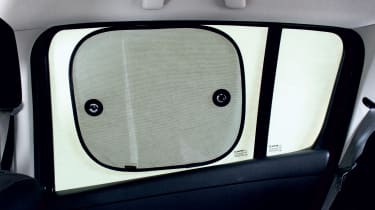 Price: Around £3.30  
Rating: 4.5 stars 
Website: halfords.com
The Pop-ups are regular rectangular blinds with rounded edges and simple, black mesh centres. Each has two high-quality rubber suction cups that hold the blind securely in place, but with ring pulls on the inside that make them easier than most to remove. They are quite large, though, and may be too big for smaller cars. 
As with the other Halfords shades, the instructions cover all practical and safety points. Performance was good for a single layer of mesh, getting UV down to 0.2, and the price is equally impressive. 
Buy now from Halfords
Halfords Cat Side Sunshades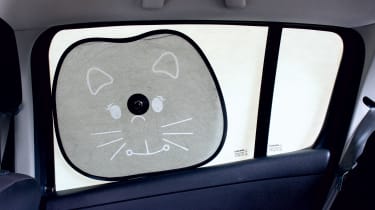 Price: Around £4  
Rating: 4 stars
Website: halfords.com
These are clearly a close relation of the Pop-up shades, with a similar design and exactly the same size (44cm x 38cm), with rounded edges. Both have a two-year warranty, but the obvious difference is the imprint of a cat to keep young children happy. Also, each is attached to the glass by just one centrally mounted suction cup. 
While we liked the ring pull for easy removal, they were less stable and would spin easily, which could allow UV through. The test result was the same, just 0.2 UV.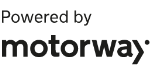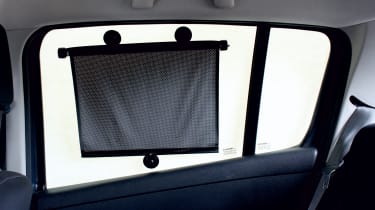 Price: Around £9  
Rating: 3 stars
Website: amazon.co.uk
These conventional roller blinds are 40cm wide with a maximum length of 48cm. They are adjustable, which makes them suitable for most vehicles. Twin suction cups secure the roller unit, with the blind fixed to the glass by a third. The blind is more dense than many mesh products, which sent our meter plummeting to just 0.1 UV. 
Kids will love the roller action and being able to adjust the blind, but care should be taken with younger users, because the push-button ratchet release is a bit fierce. 
Buy now from Amazon
Shady Car Sun Shades
Price: Around £4.70  
Rating: 3 stars
Website: amazon.co.uk
This is a second pair that takes inspiration from the Halfords Pop-up design, with a simple rounded-rectangle shape. As with other rivals, it isn't possible to open the window once they're in place. 
Each shade sticks to the glass with two suction cups, which slide onto the bound edges of the blinds. Their position can be varied to suit, although you have to take care when removing them to avoid the cups flying around. Wear over time could make the fitting loose and the blind less stable, plus the price is on the high side. 
Gladfresit Car Window Sun Shades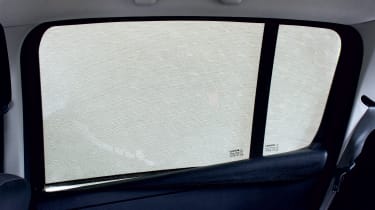 Price: Around £4.50 
Rating: 2.5 stars 
Website: amazon.co.uk
In terms of design and quality, these are almost identical to the Ally-Magic sun shade, and the difference in price is around 40p. Despite being nominally smaller (a claimed 50 x 50cm), they fitted almost perfectly, held in place by a strong elasticated section that kept the whole thing taut.  
Like many rivals, they have no storage bag or instructions, although they are light enough to cram almost anywhere. Their performance with the window closed was good, at 0.2 UV, but with it open, it was the worst of its kind, at an unimpressive 1.9. 
Ally-Magic Car Window Sun Shades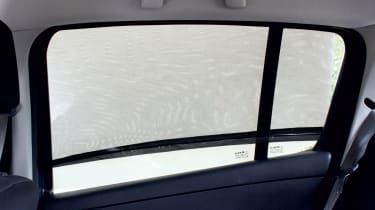 Price: Around £5.00  
Rating: 2.5 stars
Website: amazon.co.uk
Another of the blinds aiming for total coverage, these have a basic flaw because they didn't completely cover the glass – despite claims they would fit 98 per cent of cars. Our test Clio is hardly big, but we ended up with a gap of two inches or so. In place with the window up, the shade gave a good result of 0.2 UV. 
One selling point is that the glass can be opened with the blind in place, letting air into the car while keeping insects out. But thanks to a thin, lightweight mesh, the UV in this mode was 1.5, compared with the Halfords at 0.2.
Buy now from Amazon
Car Window Shades for Baby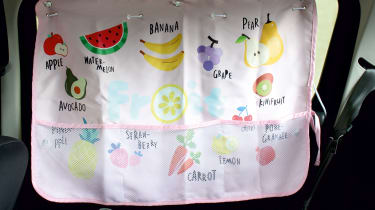 Price: Around £4.00  
Rating: 2 stars
Website: amazon.co.uk
We'd normally expect this kind of product, the strangest blind on test, to be strapped to the rear of a front seat. Unlike the others, it was not a mesh product, rather a large piece of bright pink cloth, dotted with images of fruit, and with mesh pockets along the lower edge. 
It sticks to the window with five plastic suckers, and a long cord passing through loops adjusts the size. Obviously, it cut out all the UV, but everything else as well, totally blocking the view out. And at 67cm x 48cm, it will be too big for many cars. 
Buy now from Amazon
Verdict
A clean sweep for Halfords. Its three good-quality blinds are easy to use, with comprehensive instructions and excellent UV protection. 
Halfords Rear Window Sunshades
Halfords Pop-up Sunshades
Halfords Cat Side Sunshades
Now you've blocked the sun out, do you know the law on baby and child seats?
Source: Read Full Article