Our trip was organized by a person who had little or no experience in these kind of drives and this started showing up from the very next day itself.
BHPian dip27in recently shared this with enthusiasts.
It was a lazy evening of December 2019 when I first met Arpan Dasgupta. We started meeting frequently, at the slightest opportunity or without any excuse or reason. During one such meeting, he came up with his dream destination, Upper Mustang! It was there in my bucket list for a long time; however, I was looking for trip partners! Soon Covid happened and every possible dynamics changed beyond limits! The WhatsApp group that we had created died its natural death due to Covid! Few shots from my DSLR ( I was lucky enough to realise that one of the memory card got corrupted for some unknown reason, lucky because, I have an impetus to travel again to Upper Mustang).
I have enough shots on my mobile but they were mostly captured during driving or under peer pressure! Everyone was capturing something or other and I vaguely rotated my mobile and captured few shots, which will fill the thread for the time being.
Pokhra Lake on 2nd day of the trip: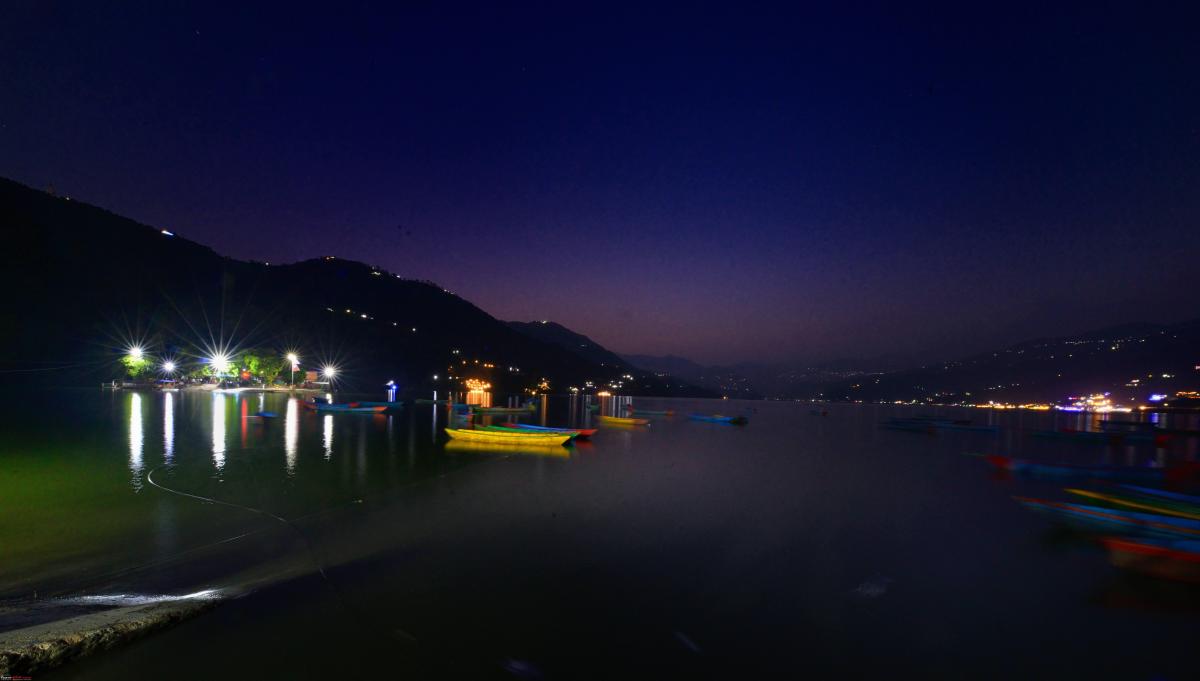 Near Jomsom, we didn't want to miss the opportunity to photograph our cars with moonlight background: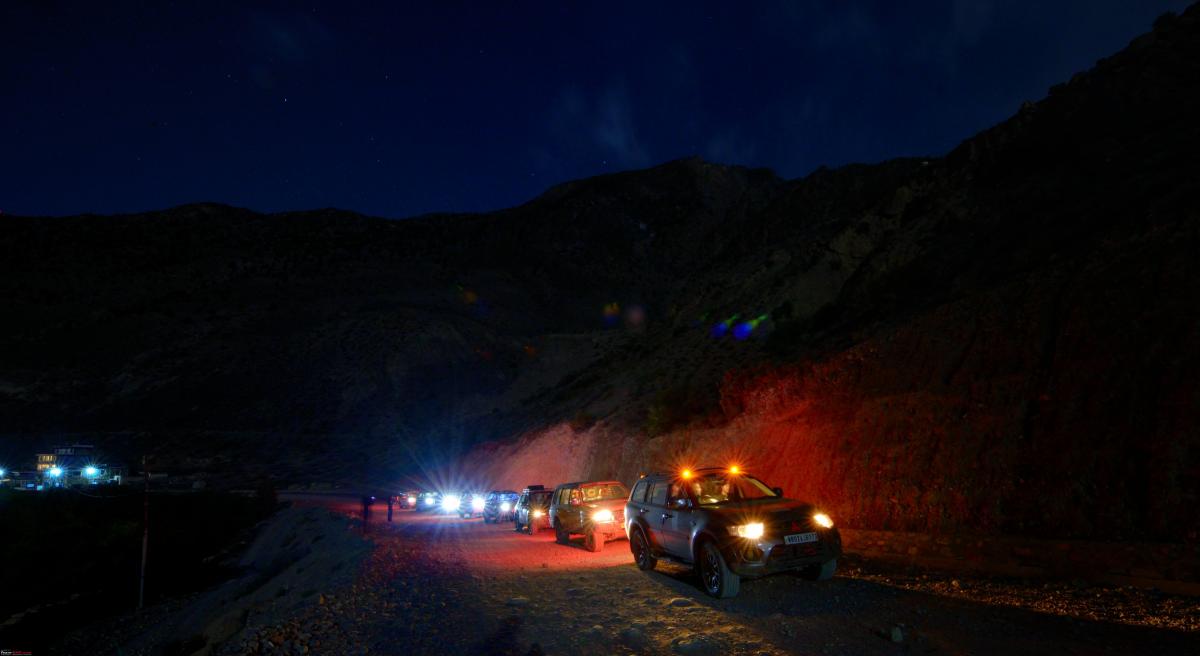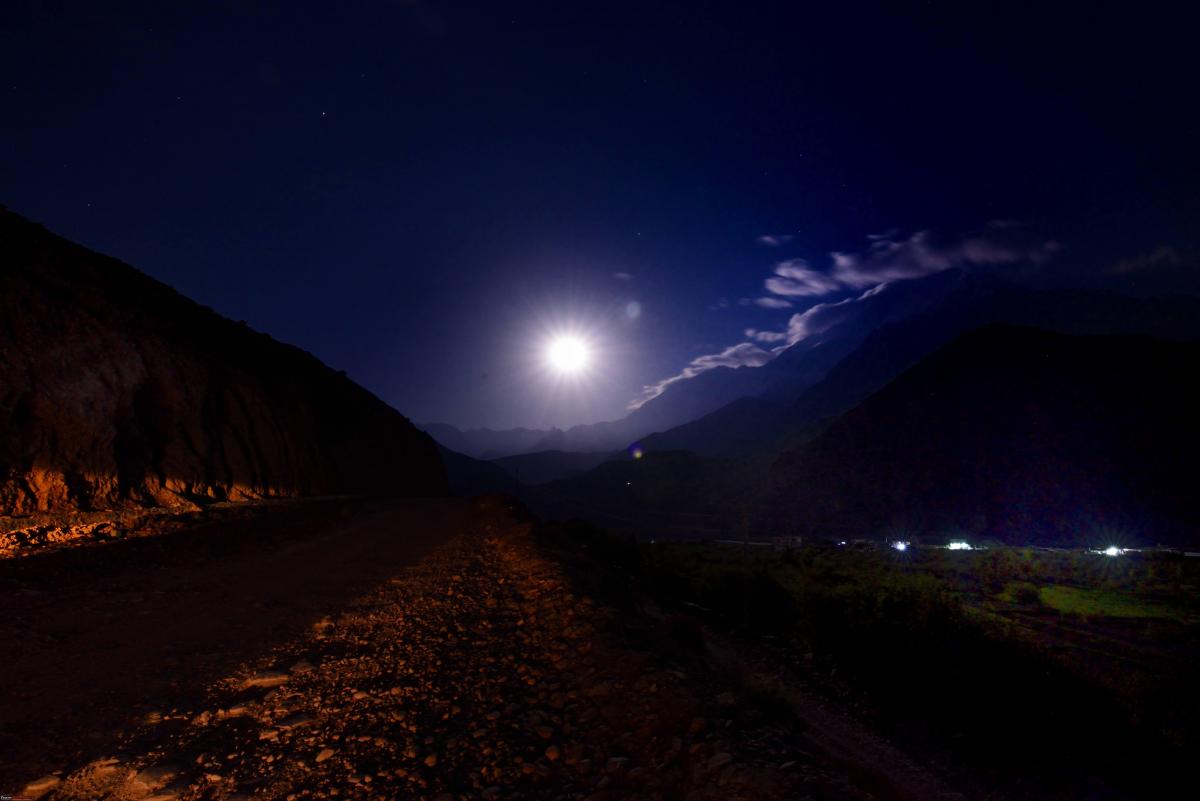 Four of cars, parked in the area shown for parking at the homestay at Lo Manthang village:
Finally, the historical Lo Manthang Caves: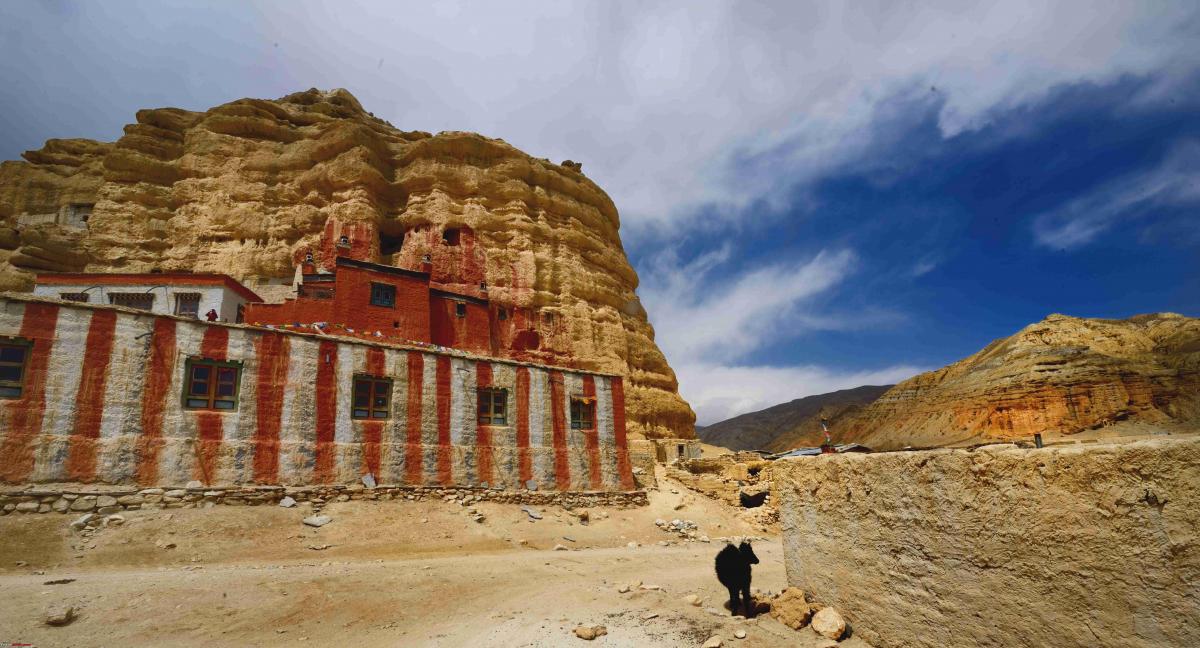 Now lets come to how it unfolded for me!
Come March 2022 and I raised the topic again with Arpan. Soon I was added to a new WhatsApp group by him. I didn't know any other member of the group except Arpan back then. I was little hesitant, but finally joined the group.
During the last week of March 2022, I decided to get the front two tyres of my car replaced that had already taken beatings for 70k drive. The side steps were removed and the engine oil, even though it had barely run for 2k, was drained. The car was ready for the trip, although I was still in a dilemma. Finally, I decided to change the rear ones too. These were relatively new, still I didn't want to take a chance with them and didn't want to replace them in Mustang Valley! The year-end usual chores at work kept me busy and I was not sure how to take the planning forward! Then, on 13th morning, the first SMS on NH Toll hit me, I was on my way to Sonauli Border, google map showed my arrival at 12.51 am! I was driving a 14-year-old Pajero SFX, which, if driven beyond 100kmph, contributes towards nation's economy through Fuel consumption! It gulps at a phenomenal pace without much incremental benefit! I decided to stick to 100kmph and carried on without any photo-break or even bio-break, as long as I could manage! The first stop was near Mohania, where I fueled the car. There is some weird connection between this car and google map. Every time I drive this car, google makes me drive through narrow lanes, bylanes even through courtyards of rural houses and this time too wasn't an exception. It made me drive through an unfinished stretch of road until I was forced to check the ABS! It worked really well, saved me and the car! Finally, I reached Sonauli without any further drama, at around 9.45 pm. I took Kolkata-Mohania- Gorakhpur- Sonauli route and covered a distance of 979 kms in 19 hours. May be age is catching up or maybe I am trying my best not to contribute towards nation's economy. The drive was otherwise uneventful with no cattle, no human being trying to cross roads unexpectedly!
I met my fellow travellers, who had driven down from all corners of the country, Chennai, Pune, Chandigarh, Delhi, Mumbai, Banglore. I drove with anticipation, concern till Sonauli, since this was my first travel with strangers, where I have not even exchanged watsapp messages also. We exchanged notes over dinner and immediately called it a day. The assembly time for next day was sharp 6.30AM IST!
Sharing two group photos which I finally managed to capture before reaching Muktinath Temple for east of reference in future: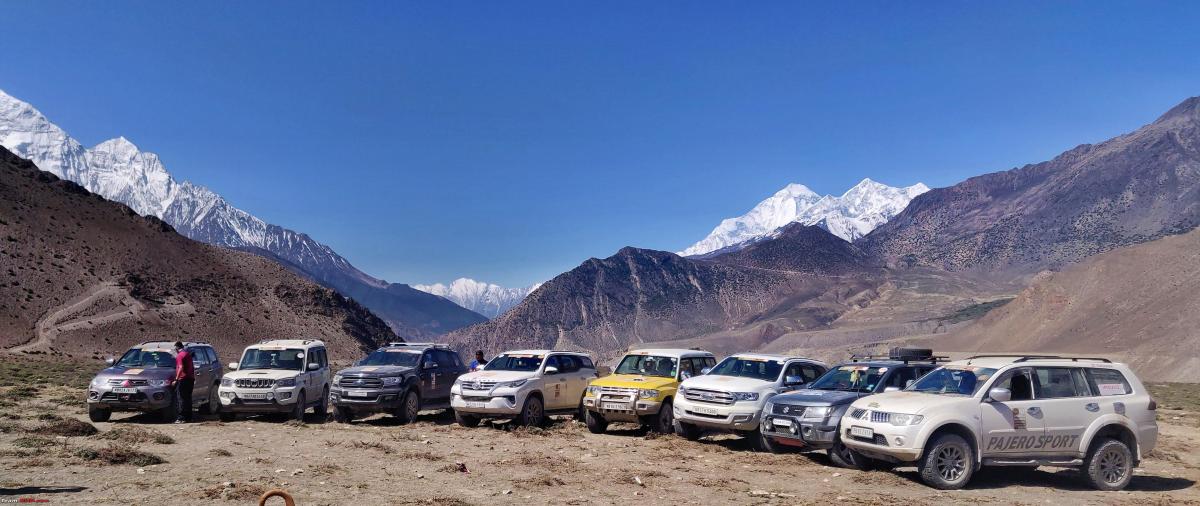 Starting from Left:
Pajero Sports, Driven by Arpan from Delhi.
Mahindra Scorpio: Driven by Uttam from Mumbai.
Ford Endeavour : Driven by Naga from Chennai.
Toyota Fortuner : Driven Yogesh from Chennai.
Pajero SFX: Driven by me from Kolkata.
Ford Endeavour : Driven by Devnath N from Bangalore.
Grand Vitara: Driven by Hitesh from Pune.
Pajero Sports ( white): Driven by Gurpreet from Chandigarh.
This was the group of 7 of us, who completed the trip as a family. This was taken near Korola Border. A small introduction to all the persons in the photograph: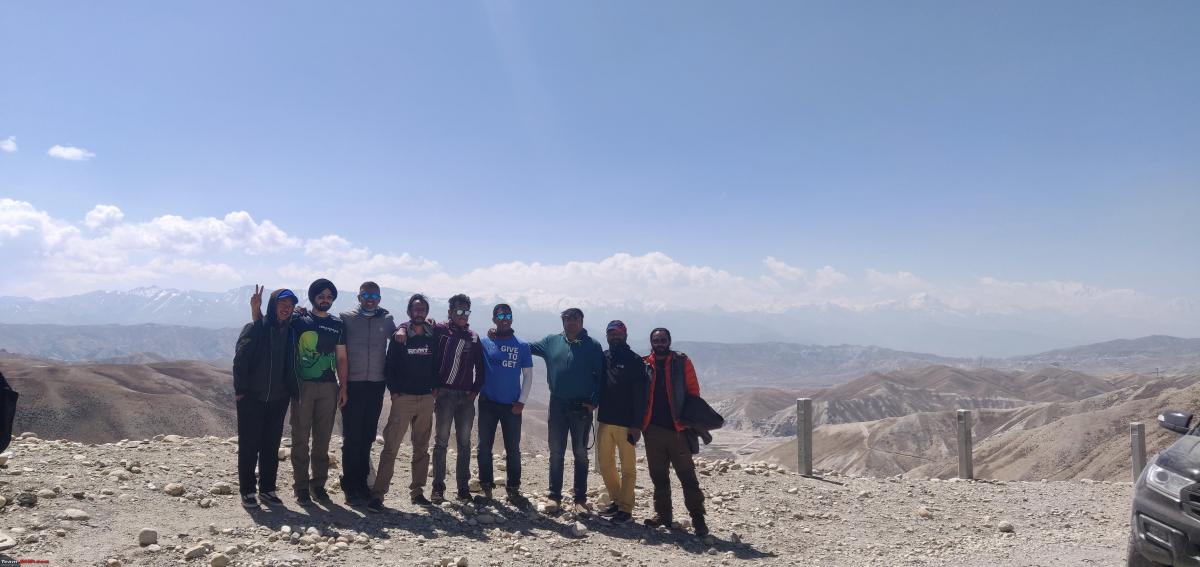 From extreme right : Apar Dutta, our guide from Nepal. He was always there with us, patiently resolved all our endless tantrums 24×7. He was the main guy behind making this look like a trip rather than an expedition, they way it was planned by our fellow co-ordinator. He was asked to throw us challenging routes, which he obliged happily, by taking us to Jomsom, via Nangi Danda, a short detour of 22+ 22Km, where 22kms took just 7 hours to finish! We had enough of adventure and gathered off-roading experience was not even in Upper Mustang region! After this route, everything else looked so easy, in Upper Mustang, be it river crossing or boulders, or invisible paths for driving until the day we encountered landslide and rain, while returning to Beni village. I will come to that part later in this travelogue.
Next to him, Yogesh from Chennai, he and his friend Naga ( standing at the centre, 5th from both side) drove all the way from Chennai for this trip. Just for your information, in order to reach Pokhra, I guess they had already driven around 2500km but it seemed they were still full of energy till the moment we parted on the last day, and planned a trip to Ayodhya, especially, when I was daydreaming of how my bedroom will feel after this trip ! Yogesh will crack a PJ, when every one is focusing on something deeply and vanish. On the other hand, Naga, a very disciplined and thorough Gentleman, he is, must have had a tough time to cope up with unorganized souls like us.
Let me introduce myself! I am the third person from right, wearing that green jacket, unsuitable for the weather, holding the DSLR but using mobile phone for most of my shots! I drive an ancient Yellow Pajero SFX, matches my body frame perfectly, almost of age but mechanically way more robust and capable. The ever smiling soul standing next to me, is Angshuman Ghosh from Hyderabad, who learnt and specialized in road building, repair, modification during this trip! Even before the car stopped rolling during several occasions, he will jump out of the car and start explaining things, which has little or no importance to the current situation. However he displayed extra ordinary skills during a landslide, where we rectified a washed portion of the road, just enough for our convoy to pass!
Next to Naga, is Hitesh, from Pune. He drove a Grand Vitara, which was already full of stickers of all possible thing. He was accompanied by his Dog, Adira, who joined us for the trip. Adiara saw and learnt many things through out the trip, which she must convey to other friends to make them jealous for life! Hitesh drove the grand Vitara as if he was born with the car, made futile attempts to clean the interior everyday, which itself is a task in that dusty environment. I never allowed him to come near my car, since I intended to carry various sample of dust, in all possible nooks and corners of the car, from the trip back to home.
Meet Arpan Dasgupta from Delhi, he drove the Pajero Sports ( dark grey) whom I know for last 3 years. It is hard to believe that he has a job other than traveling. If you are on his facebook, you will unfollow him within a month. He can ruin your happiness with travel photographs, especially if you are at desk job. Always smiling, extremely confident and troubleshooter to all issues of our trip. The trip would have been totally different without his intervention at Pokhra.
Finally meet Gurpreet from Chandigarh, he drove the white Pajero Sport. He will always greet us with his signature Smile, accompanied by Punjabi song in background. Always ready to help unless he is making videos with his GoPro. Except during lunch or dinner, he was always on Gopro or phone, recording every possible things happening around. I am sure, he has created and curated few TBs of data from this trip.
Our trip was organised by a person who had little or no experience in these kind of drives and this started showing up from the very next day itself. Few of us were ready with our cars as per instructions, however, he was nowhere to be seen. Soon a bunch of stickers were provided to us. My car started looking alien to me and it looked like a 'Mission impossible' scene! Till now all the youtube videos of bikes and cars struggling in Upper Mustang was enough to scare my friends, who shared their concerns when I told that them about this trip. After the stickering and the Bold stickers saying " Upper Mustang Expedition" made me feel weird! One such sticker was of Yokohama. Here, I would like to make very clear that Yokohama did not contribute towards anything in this trip except for a meagre INR 300 discount on tyres. Naturally I was not sure why we were supposed to display the name on our cars! On the other hand, we got a steal deal from a 70mai camera for the participants of the trip, however those stickers were not allowed to be on our cars! Anyway, I shifted my focus to the trip itself and wasn't interested to be a part of the chaos.
The porous border of Nepal allowed us to enter easily but the paper work that followed suit, was grueling to say the least! All of us were baked in the early morning heat and after 3 hours of running here and there, we finally could have a break for breakfast. Well, it was well past noon though! A very basic briefing followed with the travel plan over breakfast and I knew that our lunch was not going to be sometime soon! The journey started again and very soon we were greeted by large potholes and dust clouds. This section is called Butawal. All the brave hearts drove through those large potholes with enthusiasm in our hearts, as if the potholes never existed and slowing down wasn't meant for us. If my car could slap me, it would have done so at least 100 times for not slowing down on this stretch. After a sudden right turn, the roads widened a bit and I could spot some resemblance with tarmac! My honest realisation was that if we could drive slowly but steadily without much stops we would have reached Pokhara within 5 to 6 hours. However, we chose to torture our vehicles, took long stops and reached Pokhara in 9 hours and it was 11.00PM. I had already started realising the true meaning of expedition!
At the dinner table we were briefed about the next day and the plan had no resemblance with what we were communicated earlier! The car lover inside me suddenly revolted and I expressed my desire to carry on with the trip all by myself. I had done enough research and was entirely ready to carry on with the trip in my own pace and style. Soon I was joined by others and it seemed, we were the majority. Next morning, few of us cleaned our cars at a workshop and were ready to face fresh challenges! I had underestimated the word "expedition" and I was up for a harsh surprise! Our assembly time was 8:00AM for the next day.
We woke up and had our breakfast, however the main co-ordinator of the trip was no where to be seen! Finally, he showed up around 9.30 and his innocent face didn't let me channel my inner devil. Another round of stickers and pleasantries were exchanged before we departed from Pokhara! It was already 10.30AM. By this time, I had understood that this trip was meant to promote few brands, which I never liked and they had no contribution towards the trip or the travellers. I checked the list of things that was promised as part of sponsorship that included drone shots and full coverage by dedicated team of cameraman! Where were they? I didn't see any trace of anyone till now!
We reached Beni, where we were asked to finish our lunch as fast as possible since we were getting late for the mild off-roading section ahead of us. People who know me know that I am not a fan of off-roading unless it takes me to a destination which is worth the effort! Anyways, we all marched towards a place called Nangi Danda, for which we chose up a path (I am deliberately avoiding the word "road" and you will know why), which had not been used by any vehicle other than earthmovers! Our mighty trip planner had thrown this challenge to us and our vehicles! I wasn't surprised, when I saw the white Endy struggling to get over with most of the obstacles and the process was infinite. In each and every turn, we were greeted by rocks, boulders and potholes, which checked articulation, ground clearance, tyres, clutch and driver's ability to breathe dust all at a time! I was lucky to have a local person sitting in my car, who kept on motivating me by murmuring constantly 'just a few more turns' and I kept moving on until I heard him repeating the phrase for more than 40-50 odd times. The sun gave us company for as long as it could and then the moon greeted us with a wide grin! We decided to send the automatics to the back of the convoy and this time a Mahindra Scorpio was the lead vehicle driven by an innocent looking person named Uttam. I started enjoying the dancing of the yellow and red lights in the mountains, the process was so slow that you could easily watch small Youtube reels in between, if you had internet connection! However, the progress was better, darkness, fear and the fact that we had accepted that this was the way forward helped us to crawl forward. Sharing few videos of the section, which we could capture while crawling through this path of JCBs!
I got ample opportunity to click around, while driving, waiting others to move ahead:
Sharing few short videos of the section of that brilliantly paved route to Nangi Danda Community Hall. It revealed hidden features and characteristics of all the cars and drivers together. In most cases, all of us wanted to finish driving but actually managed, when we got used to the shimmy dance lesson. I have more than 2 TB of content, which I don't intend to share, not only because its monotonous, it becomes very stereo type at times to watch those videos. Sharing few videos which was captured using mobile as of now:
This video was shot during the day time.  During the evening, the road looked better, we could see less on cliff side, nothing changed.  Another short video was captured by Hitesh while waiting in the Grand Vitara.
All the things that were once organised and nicely kept and locked inside the car, was now scattered inside the car. I left it to the path to decide, where it wants to place my belongings inside my car and ensured I rolled the window most of the time.
The spirit of the participants was soon evident, as soon as we reached the destination. We had to park our cars and were asked to follow some stones to the Nangi Community Hall! It was time to equate the efforts of the car, engineering precision, factor of Safety only with respect to human fitness! After a brief 15 mins of walk, we finally saw some walls, fencing and a place which was to be our place for the night. The group immediately dumped their luggage and sat for dinner cum snacks munching, which was followed by my quest to make this perilous journey worth it. I picked up my camera to capture the barely visible mountain ranges of Annapurna, Dhaulagiri around midnight!
The place where we parked our car in Nangi Danda:
There was no wake-up call but still I managed to leave bed by early morning and saw the mighty Mountain ranges! It was heavenly, we were surrounded by the ranges from all corners and they looked magical. We were ordered to get ready and leave by 9:00AM since our destination once again had some off-roading followed by 'roads'. Our tyres craved for tarmac but it seemed Nepal wasn't the right place for such wishful thinking. We learnt how to place rocks so that you reduce the probability of belly scrapping of our loved vehicles after few futile attempts. The road seemed endless with stones and boulders placed like proper adventure. I realised, I was not asking for the kms, time and how long it should take, since they are futile and the answers were far from reality. I surrendered myself to nature and allowed it to decide on my behalf.
Finally, around 1.30PM, we saw the roads! The roads were hand built with pebbles and mid sized stones to check the driver's patience, tyre quality and ABS response, in case the brain moves faster than the car. For the first time in almost 22 hours, I was using my gear lever and driving happily in 3rd gear at a speed of 40kmph! If cars were equipped with a hand to slap, along with airbags, all of us would have surely received some good blows from our cars.
Finally I was in a mood to capture some pictures . This is before lunch at Tatopani: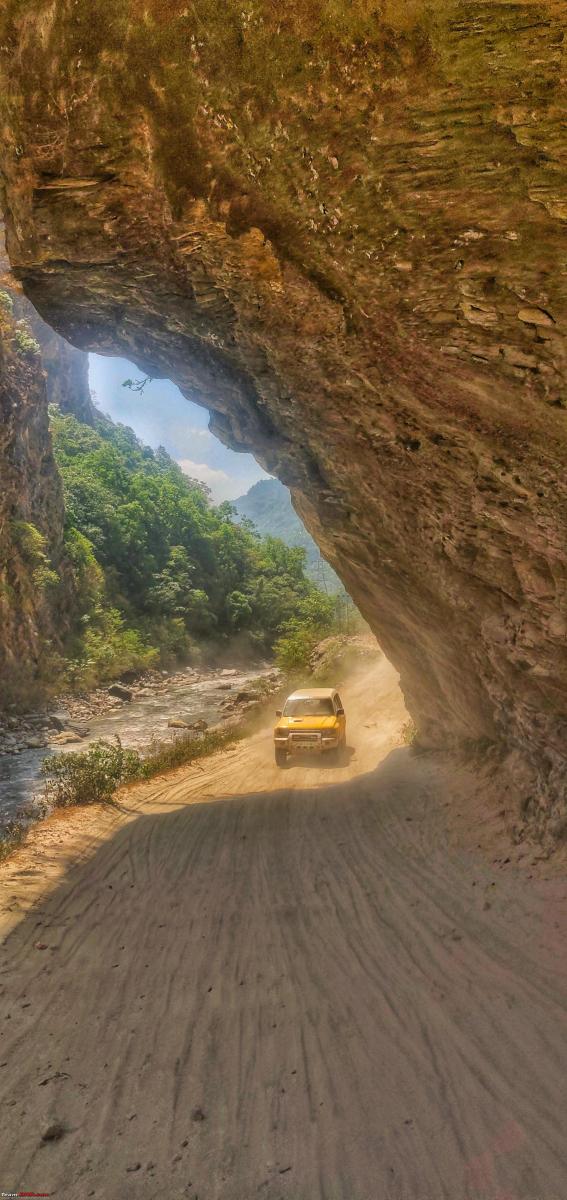 We had our lunch at Totopani and it was time to move to Jomsom, which was still 70kms from Tatopani, via Murpha village. We were greeted by some earthmovers immediately after leaving Tatopani, where the widening of the "roads" was underway. The two Pajeros with WB number somehow managed to cross the section without much hassle and decided to take a stop, till others joined! After half an hour or so, suddenly we saw that Uttam was using the power of Mahindra Scorpio to rescue a local bus! He was euphoric the moment he saw us capturing his brave move and pressed the accelerator more than the tow rope could withstand. The tow rope snapped without damaging anything, anyone, it can atleast claim, it was martyred in a beautiful place while performing its duty!
Finally, we could see the river, not for the right reason! This time, we had to drive through this river bed (as if there was any other option!).
The government of Nepal had by then helped us get accustomed with such surprises. All the cars happily took the challenge and this time, since I was leading along with our guide, I followed his instructions for the turns and paths. SFX did it nicely without any drama until I came across a section, where a path had been created with a water pipe, just 4 inches wider in dimension with respect to the car. I went down, inspected and requested our guide, Mr. Apar Dutta to check that my tyres didn't miss the path. He helped me to glide through it. Sharing a video of Yogi's Fortuner crossing the section, I was instructing them, since the path was not visible in dark.
We reached Jomsom finally and was soon asked to park on the road. The hotel had small rooms with a homestay atmosphere! After a brief chitchat and discussion on itinerary, we decided to surrender ourself to bed for a good sleep.
During a trip, I usually become an early riser, which proves that fundamentally, I am not a lazy person. This contradicts my behaviour, whenever I am out for business or official tours! I wanted to see the Jomsom village so decided to take a stroll around. The place is surrounded with snow capped peaks. The landscape reminded me instantly of Inssbruck, Austria. The only difference being, broken roads and noisy tractors roaming around.
The early morning view of Jomsom village: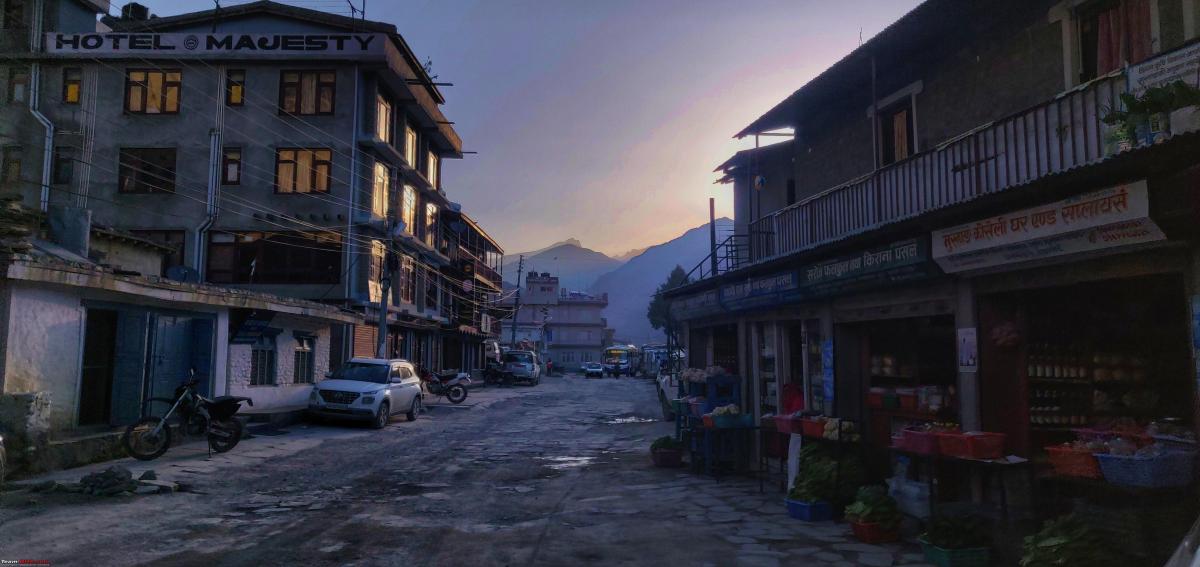 We managed to leave the hotel by 8.30 ish. Today finally we will be in Upper Mustang District, after visiting Muktinath Temple! Just after leaving the town, we saw a well marked tarmac of airport! We are not so lucky as aircrafts hence, we are offered something similar path only finished with stones and variants of dust! I am sure oneday this will look like the roads of Ladakh but by this time my car inside looks like a dust collector.
The landscape changed all of a sudden, as if the movie has started. We stopped for a drone shot, some photography of our cars: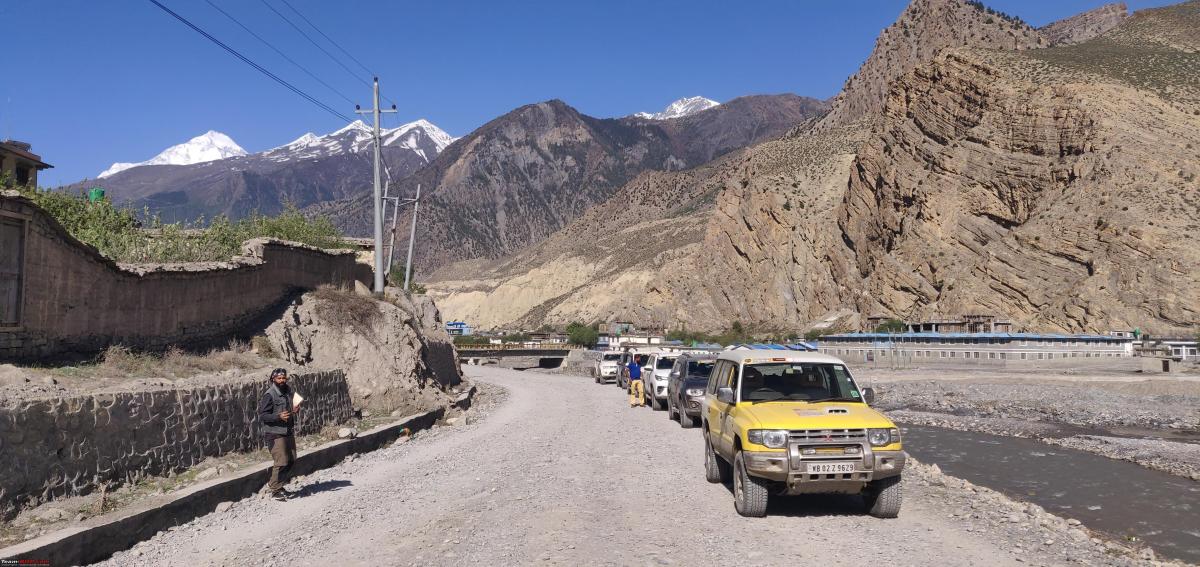 This was near Muktinath:
Few shots at Muktinath Temple. I have a pertinent question, throughout my life, why do mankind placed all the temples after an arduous path, things could have been simple.I took ample time to click photographs, rest and slowly move on:
This was the road before Kagbeni Y fork:
After visiting the temple, we finally decided to leave for our today' destination. A small quaint village of Upper Mustang district, called Ghami. Our guide, went for formalities at the office, where the Upper Mustang permit has to be shown and to carry out certain official formalities. He came back and informed us that we have to cross all the checkposts by 6.00pm, which is barely 2 hours from now.
The landscape again changed after the Y fork, which took us towards Kagbeni village. I was never good with multi tasking in life, however, I find myself driving, as fast as possible on our path! At times, pointing my camera or Phone towards the landscape and listening to the stories from our guide Mr. Apar Dutta. Sharing few of the photos captured during the drive.
We saw this beautiful Apple orchard while gunning our cars towards Tsarang Check post. The time was 4.30 and our cutoff time to reach the check post is 5.30pm and its non-negotiable. I took Apar, our guide in my car and drove as fast as possible in those trails.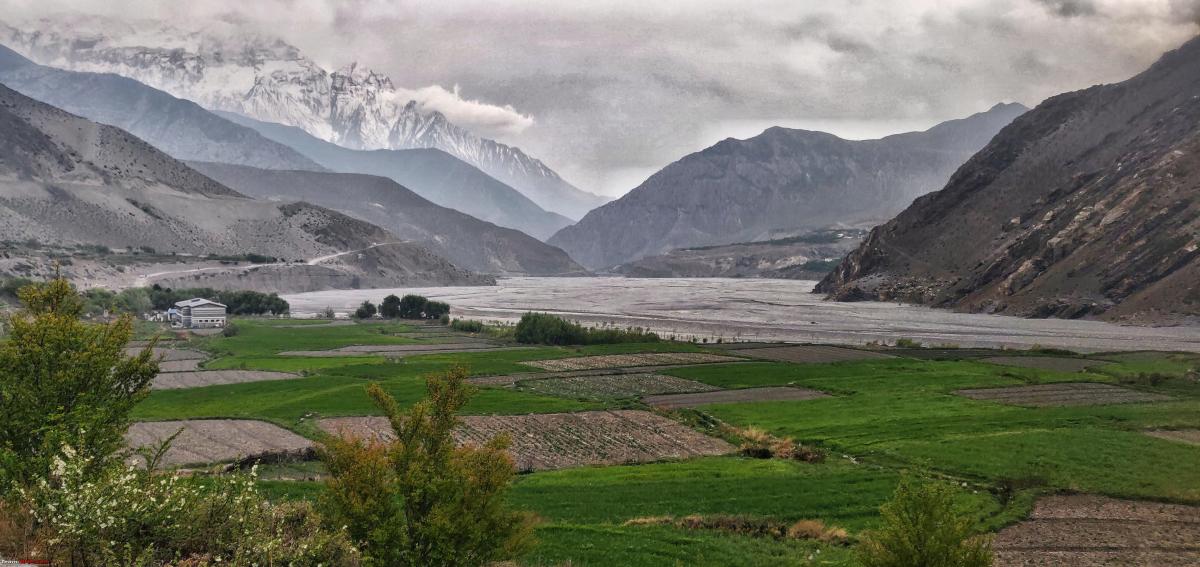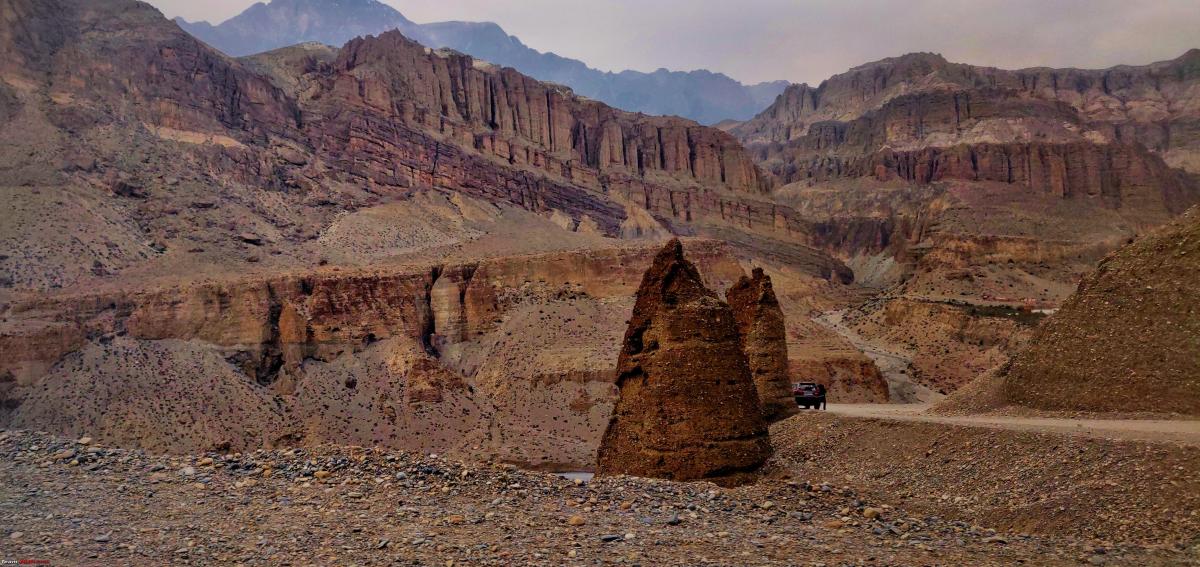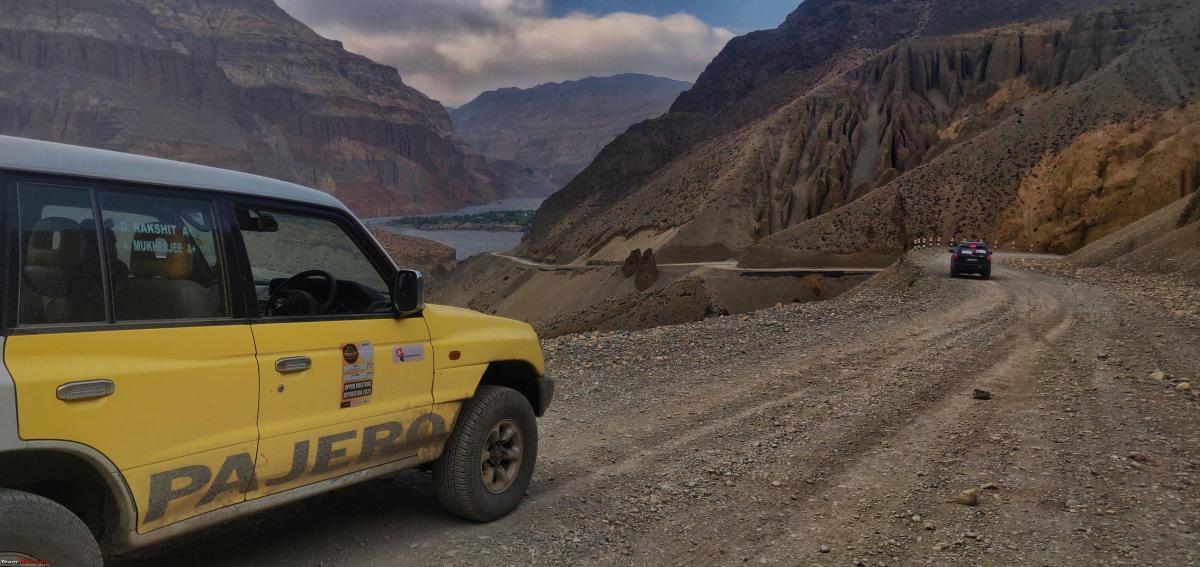 I could not miss the oppurtunity to click this shot: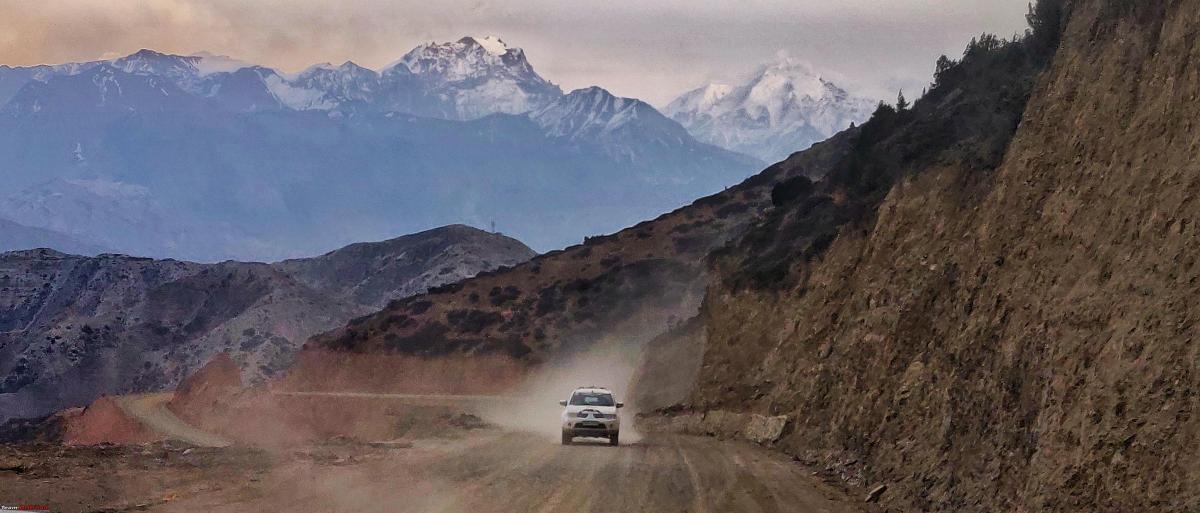 This is road just before Tsarang Check post: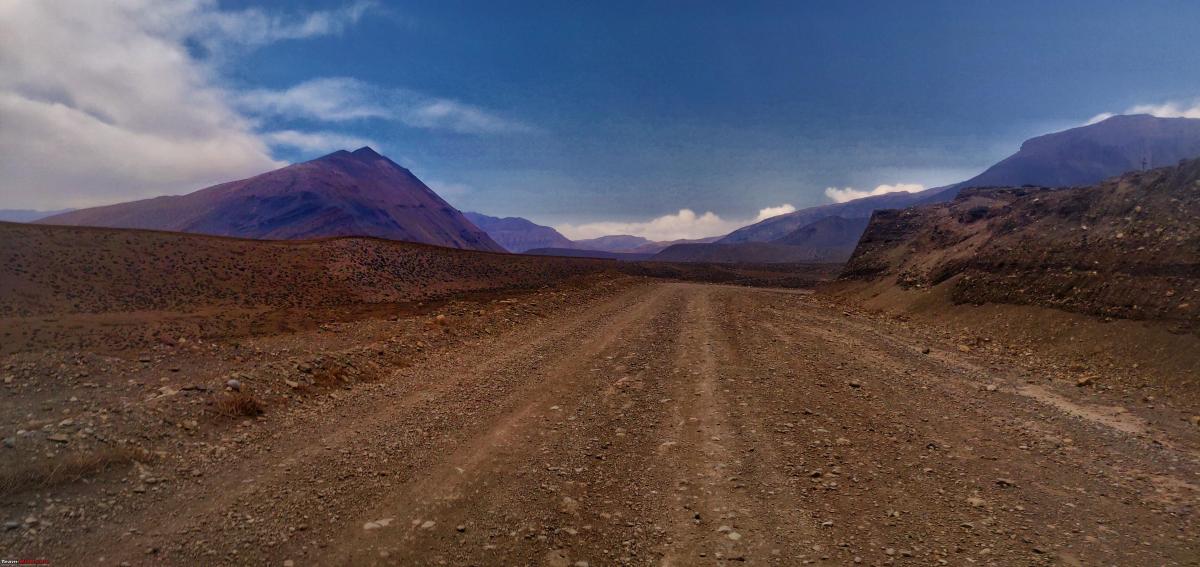 This is that mighty checkpost, after Kagbeni Annapurna Conservation office, where our documents were checked for 15 mins and we were allowed to enter the " Forbidden kingdom of Mustang":
Soon the river greeted us with a smile and we followed the trail: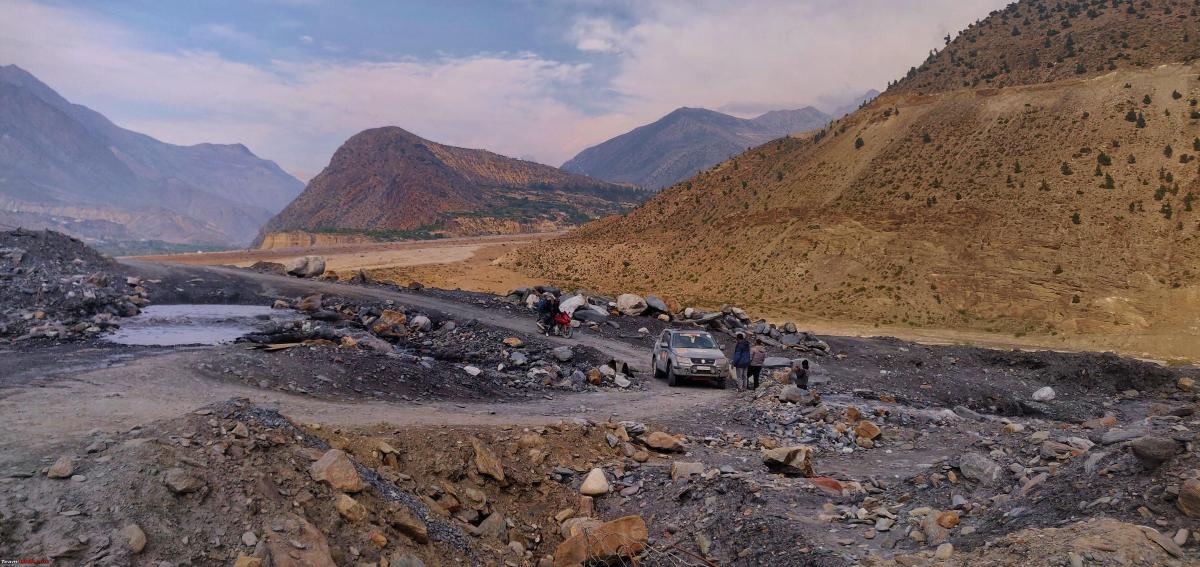 This is just day 4th day of the trip and things will become dramatic as soon as we reach Ghami.
Continue reeading on BHPian dip27in's road trip to Upper Mustang Nepal for BHPian comments, insights and more information.
Source: Read Full Article