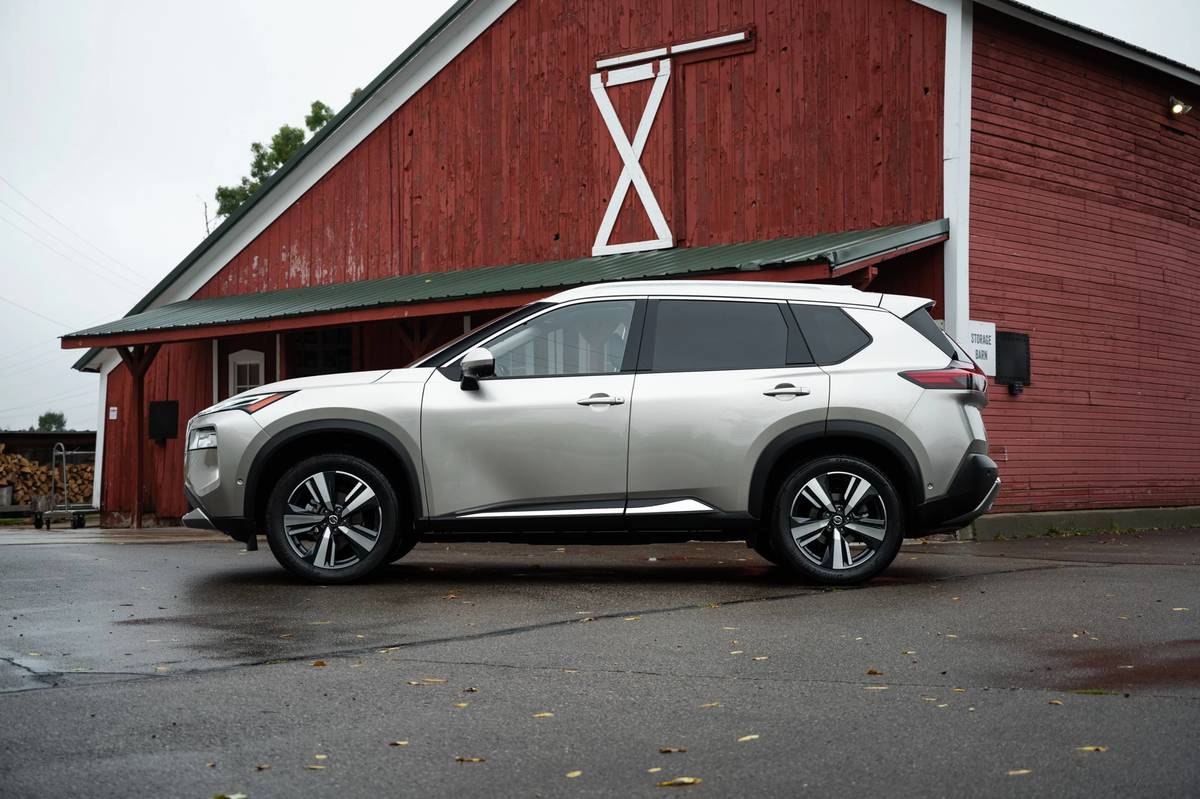 Nissan's redesigned 2021 Rogue offers two new examples of display technology: a 9.0-inch dashboard touchscreen that's optional on the SL and standard on the Platinum (out of S, SV, SL and Platinum trim levels) and a fully digital, 12.3-inch instrument panel that joins it on the Platinum only. After spending some time in said Platinum, we observed some hits and misses of these new screens. Here's what you should know.
Related: 2021 Nissan Rogue Review: More Steps Forward Than Backward
Touchscreen Hits
We'll begin with the touchscreen, since its presence in two Rogue trims means it's likely to fall into the hands of more shoppers. Supplanting a standard 8.0-inch touchscreen, the 9.0-inch unit is more than large enough and does a good job of using its real estate — features like Apple CarPlay aren't needlessly split to a portion of the screen. (The 9.0-inch unit also upgrades to wireless Apple CarPlay, though Android Auto, which is standard on all Rogue trims, remains a wired connection.) Both the backup camera and 360-degree display are crisp and clear, as are the system's overall graphics. The screen also responds to user inputs quickly, whether from the touchscreen or adjacent physical controls. The controls have a clean look without needing to go the route of touch-sensitive panels, a usability bungle the Rogue avoids.
Touchscreen Misses
The touchscreen has relatively few misses, though I was disappointed to see Nissan go with what appears to be a gussied-up version of its existing interface, rather than an entirely new operating system. It's understandable, in the interest of avoiding potential new problems. I also would've preferred a more readily visible home-screen button in the display or among the physical controls. Instead, I found myself hitting the back button multiple times.
The screen also appeared dark in some areas while I wore polarized sunglasses, something worth checking out during your test drive. It didn't render the display unusable, but buyers might find it annoying over time.
Digital Instrument Panel Hits
There's a lot to like about the 12.3-inch digital instrument panel: the graphics, like those of the touchscreen, are crisp and clear, and the menus are straightforward and intuitive. The traditional hood over the display makes it still feel like a traditional gauge cluster, unlike some implementations of the dual-screen layout (see certain versions of Mercedes-Benz's MBUX digital gauge cluster, for example).
Digital Instrument Panel Misses
These are less misses than simply missed opportunities, since the gauges' digital layout makes additional features more feasible than with, say, physical gauges. For starters, I'd like to see more high-tech features, like the blind spot camera displays appearing in certain Hyundai, Kia and Genesis models, or the navigation displays in Volkswagen and Audi models — or even, perhaps, augmented-reality navigation displays like those from Mercedes-Benz and Cadillac. (Of course, much of that would require additional hardware, too.) As it is, it's a nice-looking display that doesn't really do much. Would such extras add cost? Certainly, and at an as-tested price of $38,310 (including a $1,095 destination fee), the all-wheel-drive Rogue Platinum is rather pricey for its class as it is.
Finally, a minor quibble that's more updatable in the near term: changing among Sport, Standard and Eco driving modes was easy enough, but there was no corresponding change in the colors displayed on the instrument panel. Using red for Sport, green for Eco and something else for Standard better informs the driver of his or her currently selected drive mode. Plus, honestly, it's fun to see the colors change. (Yes, I'm 35, why do you ask?)
The new screens aren't the only reason to choose the Rogue's Platinum trim level — the rest of its interior is quite nice, too — but with only a few minor missteps, they help it seem worth its relatively premium price.
More From Cars.com:
How Do Car Seats Fit in a 2021 Nissan Rogue?

Wireless Apple CarPlay and Android Auto: Where Are They Now?

Nissan Makes Safety Shield 360 Standard on 10 Models for 2021

2021 Nissan Rogue Adds Pricey Platinum Trim, Bumps Up Prices Across Lineup

2021 Nissan Rogue's Interior Makes Strong Turnaround
Related Video:
Cars.com's Editorial department is your source for automotive news and reviews. In line with Cars.com's long-standing ethics policy, editors and reviewers don't accept gifts or free trips from automakers. The Editorial department is independent of Cars.com's advertising, sales and sponsored content departments.
Source: Read Full Article